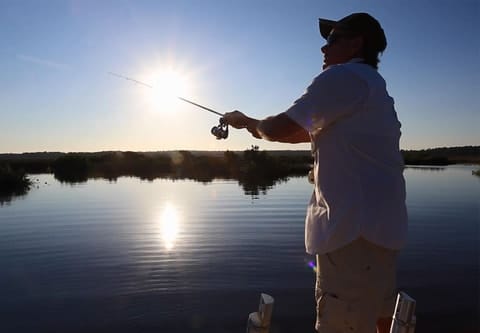 Father's Day Fun on Florida's Adventure Coast
This is "Nature's Place to Play" and yours too on Father's Day, whether that means spending time with dad fishing, boating, playing golf or simply watching the sunset on the Gulf of Mexico. Whichever way you decide to celebrate Father's Day, you can guarantee great memories being made in the abundant natural spaces and outdoor attractions on Florida's Adventure Coast.
Check out these suggestions for Father's Day, including outdoor adventures as well as some surprises along the way!
Dads who love fishing can enjoy nearshore, offshore as well as freshwater fishing on Florida's Adventure Coast. Looking for a fishing pier? Check out local favorites like Bayport Park, Jenkins Creek Boat Ramp, and Linda Pedersen Park for nearshore fishing. Would you rather spend a leisurely day fishing at a local lake? Some area highlights include Lake Lindsey, where Large-mouth Bass are popular, and the Silver Lake Recreation Area in the Withlacoochee State Forest. For an offshore fishing trip, hire a local fishing guide or cast yourself into adventure with the help of our local bait and tackle shops.
For the father who loves a challenge, FLG X Adventure Course provides a fun opportunity to test yourself and an amazing view from Florida's treetops. Located in Brooksville, this adventure park features four obstacle courses nestled among lush pine forests, with features like rope swings, wobbly bridges, tunnels, and even cargo nets. Challenging, fun, and confidence-building, the courses provide different options for elevation and difficulty to thrill all ages. Climbers at least nine years old with a reach of 5'9″ can participate in the first two courses, while children ages 5-8 can enjoy the perfectly sized Little Ninja Course that mimics the courses on ground level. When you're done on the obstacle course, you can race Dad to the finish line on a 500-foot zipline!
For a Father's Day activity that's closer to the ground, enjoy the challenge and discovery of the diverse golf courses on Florida's Adventure Coast. Several are located along the Brooksville Ridge, presenting varied terrains and elevations that will challenge even the most experienced golfer, yet provide novices a fun opportunity to learn and improve their game. Enjoy rolling hills and fairways carved through old lime rock quarries while taking advantage of reasonable rates and daily specials.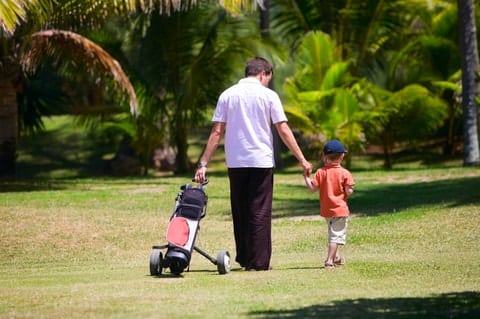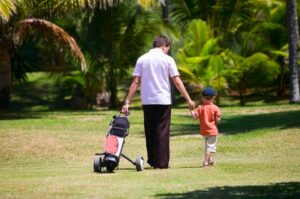 Discover Croom Motorcycle Area for unforgettable four-wheeling or dirt bike riding, with local vendors available to meet you there with a dirt bike or ATV rental. Nestled in the beauty of the Withlacoochee State Forest, the Croom trails offer something for every rider in the family, including a training area and a young rider area. There are shaded riding trails, fenced circle tracks, a 100-acre sand bowl, picnic tables, a campground with hookups, and plenty of hills to play on.
The Croom Tract of the Withlacoochee State Forest also offers separate trails for mountain biking, with more than 50 miles of off-road single-track featuring exciting elevation changes, curves, and jumps.
From frothy beer flights to Florida-made rum and whiskey, our unique craft breweries and distilleries will have you embracing your inner 'Beer Dad.' Enjoy craft drinks or brewery tours at Marker 48 Brewing and Tidal Brewing, both of which are pet friendly. For an off-the-beaten-path adventure, take a scenic drive out to NJoy Spirits, located within the Chassahowitzka Wildlife Management Area, where they grow their own rye and sugar cane for their award-winning Wild Buck Whiskey and Mermaid Rum.
Ready to make your Father's Day plans? Explore our website and discover more ways to spend time with your dad, including great local restaurants, upcoming festivals and events, and much more.