Anglers enjoy a variety of fishing experiences, including deep-sea fishing in the Gulf of Mexico for grouper, cobia, and snapper; flats fishing for tarpon, trout, and redfish; and lake fishing for largemouth bass, bream, and crappie. Cast yourself into adventure with the help of our local bait and tackle shops, which have everything you need to catch authentic Florida fishing memories.
Along Florida's Adventure Coast, anglers have an abundance of nearshore and offshore spots to explore. The region's thriving coastal estuary is teeming with aquatic life, while underwater features also make the Gulf's waters a paradise for anglers. In this area, nearly 250,000 acres of seagrass beds blanket the Gulf of Mexico floor and provide food and shelter to a variety of fish and mollusks, along with other marine life.
Species like tarpon, grouper, and snook lurk in these ecologically rich inshore waters, while the region's shallow salt marshes also harbor enticing fish like cobia and Spanish mackerel. Farther offshore, underwater features like artificial reefs and rock piles provide shelter for amberjack, kingfish, and red grouper. Local outfitters deliver a wide array of inshore, nearshore, and offshore options. For carefree days on the water, book fishing and scalloping adventures with professional charter services.
Would you rather spend a leisurely day fishing a local lake? Some area highlights include Lake Lindsey, where Large-mouth Bass are popular, and the Silver Lake Recreation Area, in the Withlacoochee State Forest.
FISHING CHARTERS, MARINAS AND BOAT RAMPS
FRESHWATER HOTSPOTS
In addition to the rich waters of the Gulf of Mexico, Florida's Adventure Coast is also home to an extensive collection of freshwater lakes and rivers, just perfect for freshwater anglers to explore. Winding through the Withlacoochee State Forest, the waters of the Withlacoochee River harbor largemouth bass, channel catfish, bluegill, and sunfish.
There are several ways to access the scenic waterway, but Lake Townsen Regional Park provides plenty of river access for anglers, along with perks like picnicking areas, a playground, and nearby kayak, canoe, and stand-up paddleboard rentals. The Withlacoochee State Trail runs thru the heart of the Park, offering restrooms and shaded picnic areas.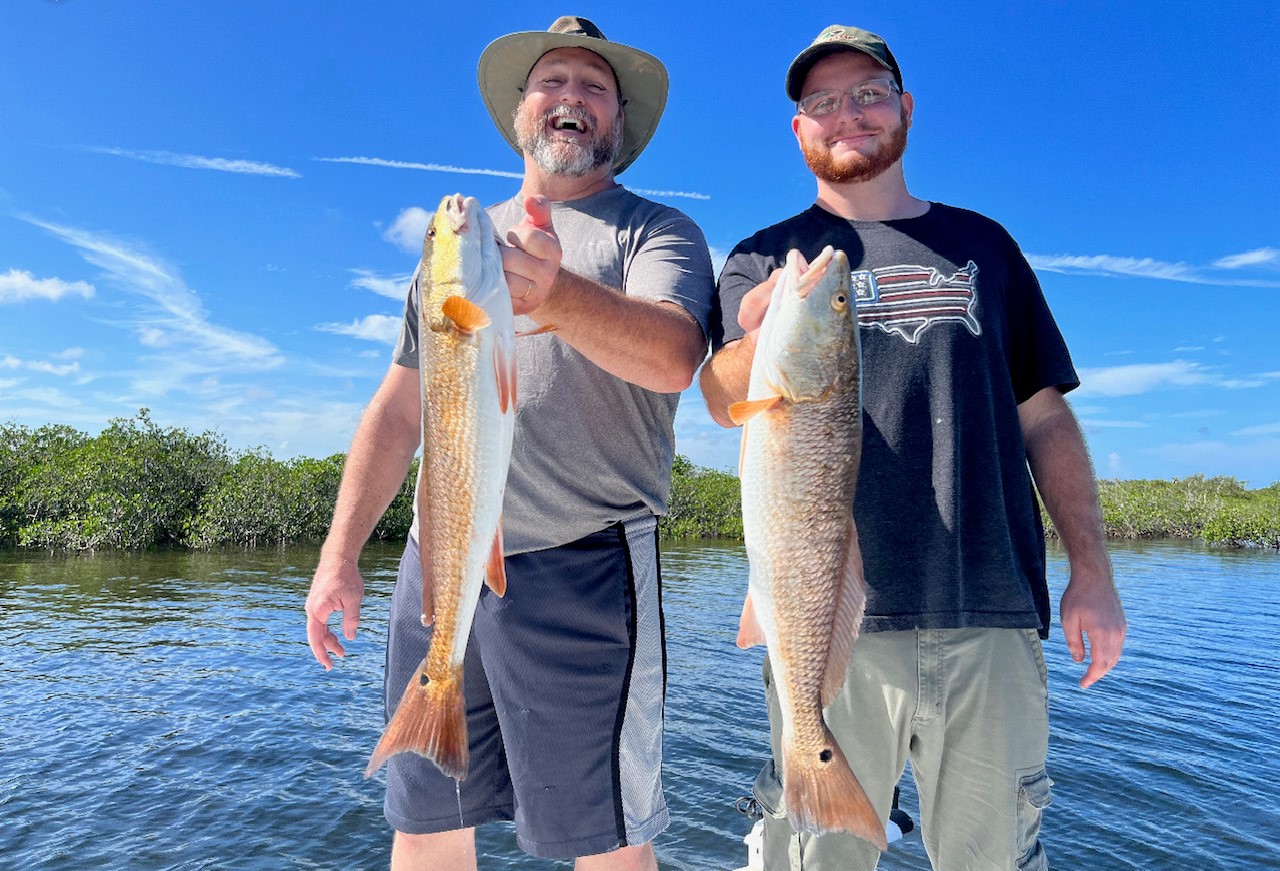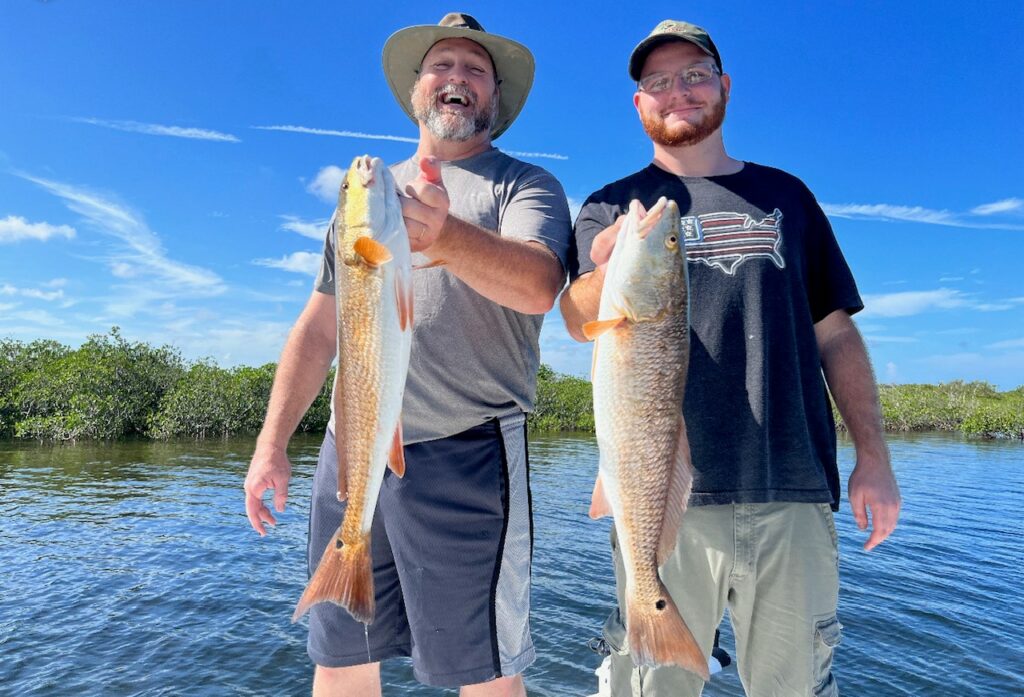 KAYAK FISHING ON FLORIDA'S ADVENTURE COAST
For a closer to the action fishing adventure, hop in a kayak and spend a day exploring Florida's Adventure Coast's pristine waterways, seeking out sweet spots to drop a line. Kayaking is not only a serene way to spend a day on the water, but it also gives paddlers the freedom to explore every nook and cranny of a waterway, whether in a lake, on a river, or along the coast. For a more extended outing, guided fishing trips are available too.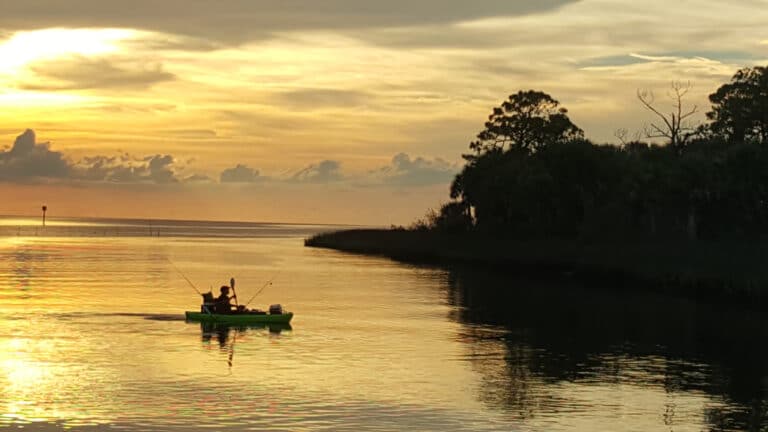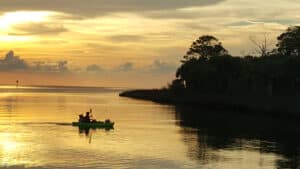 FAMILY-FRIENDLY FISHING HOLES
With an abundance of family-friendly fishing spots, Florida's Adventure Coast also has plenty of opportunities for young anglers. In Spring Hill, Jenkins Creek Park has a fishing pier and provides access to coastal marshes and waterways that eventually merge with the waters of the Gulf. Across the street, at Linda Pedersen Park, you'll find other family-friendly amenities like grills and picnic tables.
Youngsters can also cast from the shoreline at Bayport Park, where the Weeki Wachee River flows into the Gulf, making the spot an ideal place to fish for nearshore species. The newly reconstructed pier offers plenty of room for anglers of all ages. 
Kids can also fish the Mud River from the seawall at Mary's Fish Camp. Offering a taste of Old Florida, the camp is a hotspot for mullet, but visitors can also hook species like redfish and mangrove snapper. At Mary's Fish Camp, you can also take advantage of the onsite bait shop, kayak, and canoe rentals, plus a variety of accommodations including cabins, bunkhouses, and RV sites.
Whether you're itching to chase tarpon in the Gulf, or you're seeking a quiet lake where the whole family can drop in a line, you'll find the ideal destination on Florida's Adventure Coast. The region boasts an abundance of lakes, rivers, and coastal areas teeming with fish, as well as friendly, knowledgeable outfitters and charter services to help you make the most of your visit. 
Florida, the Fishing Capital of the World, is popular among anglers not just for its year-round outdoor recreation climate, but also for the sheer diversity of fishing found here.
No place is that range of choices more evident than here on Florida's Adventure Coast, Brooksville-Weeki Wachee. Thanks to our vibrant coastal estuary, unique Gulf of Mexico underwater geography, and freshwater mix of lakes and rivers, you can unleash your inner angler in countless ways. 
TIDE CHARTS
Fishing on Florida's Adventure Coast, Brooksville-Weeki Wachee
Snag your next big catch on Florida's Adventure Coast!
Contrary to popular belief, Florida's largest attraction isn't a theme park, but rather its natural resources. On Florida's Adventures Coast, Brooksville-Weeki Wachee, travelers are captivated by the trails, springs, rivers, forests, and wildlife.
SHARE WITH #FLADVENTURECOAST