Celebrating the Mermaids of Weeki Wachee Springs
In collaboration with the Hernando County Fine Arts Council, Brooksville Main Street and local artists, Florida's Adventure Coast Visitors Bureau has unveiled The Mermaid Tale Trail to honor the 75th anniversary of Weeki Wachee Springs State Park, home to the world-famous mermaids.
Consisting of 27 mermaid statues, The Mermaid Tale Trail is located throughout all of Hernando County. Mermaid statues grace streets in Brooksville, Hernando Beach, and Spring Hill from Shoal Line Boulevard to Spring Hill Drive.
The Mermaids' Locations
Discover the Mermaid Tale Trail
If you're excited to follow the trail of the mermaids, you're in luck because we've compiled an itinerary of where you can find all twenty-seven of them along Florida's Adventure Coast. Each statute is unique and has been commissioned by different Florida artists, and you'll find them placed at key businesses and attractions. You'll want to visit all these works of art along The Mermaid Tale Trail!
A Behind the Scenes Look at Some of the Artists
All of the statues are life-sized at seven feet tall and include a face cast from one of Weeki Wachee's popular mermaids, Kristy, who was a mermaid for seven years. Each statue was then hand-painted by local juried artists, creating a unique work of art. Below we've highlighted just a few of the artists who helped these mermaid statues come to life.
Karen Heidler
A member of the art community for almost thirty years, Karen Heidler is an award-winning American watercolorist. She is a member of the National Watercolor Society and the Florida Watercolor Society. Karen loves to connect with nature, and she invites those viewing her work to join her in her journey. She currently lives in Spring Hill, Florida.
Karen's mermaid is named Flora, and she sits atop a rock that highlights Florida's Adventure Coast, including a sunset at Pine Island, the waters of Weeki Wachee, and lots of flowers.
Diane M. Liptak & Steve Krou
This artistic team has been creating murals since 2017, producing works of art for Hernando Beach Fire Rescue Station 6, Weeki Wachee Area Club, and numerous businesses, restaurants, and private residences. Diane and Steve's mermaid is named Amaxura, the Spanish name for the Withlacoochee River. Amaxura features symbols from the Seminole language, including bear tracks, turtles, flowing water, and the different seasons.
Jesse Kasabian
A resident of Brooksville, Florida, Jesse Kasabian creates art using a variety of different mediums from brushes and spray paint to digital art and photography. Jesse loves to use bright and bold colors in his work, inspired by social issues and pop culture. Jesse's mermaid is named Nico & The Velvet Underwater and is inspired by his love of music. His statue features a band of underwater friends alongside Nico: Jesse Dolphin plays drums, Sassy Seahorse plays sax, Valeri Seahorse plays trumpet, and Peter Turtle plays the keyboard.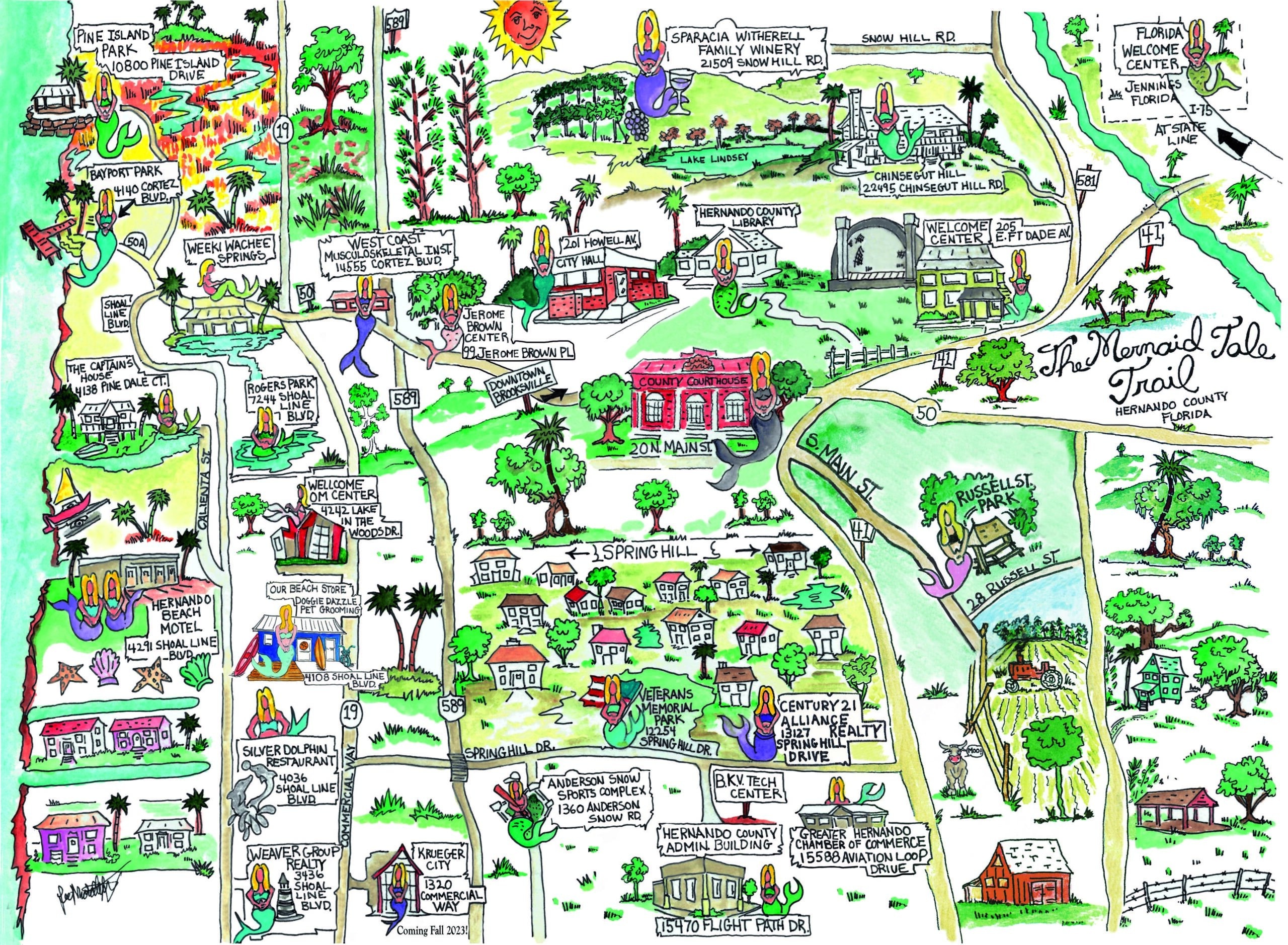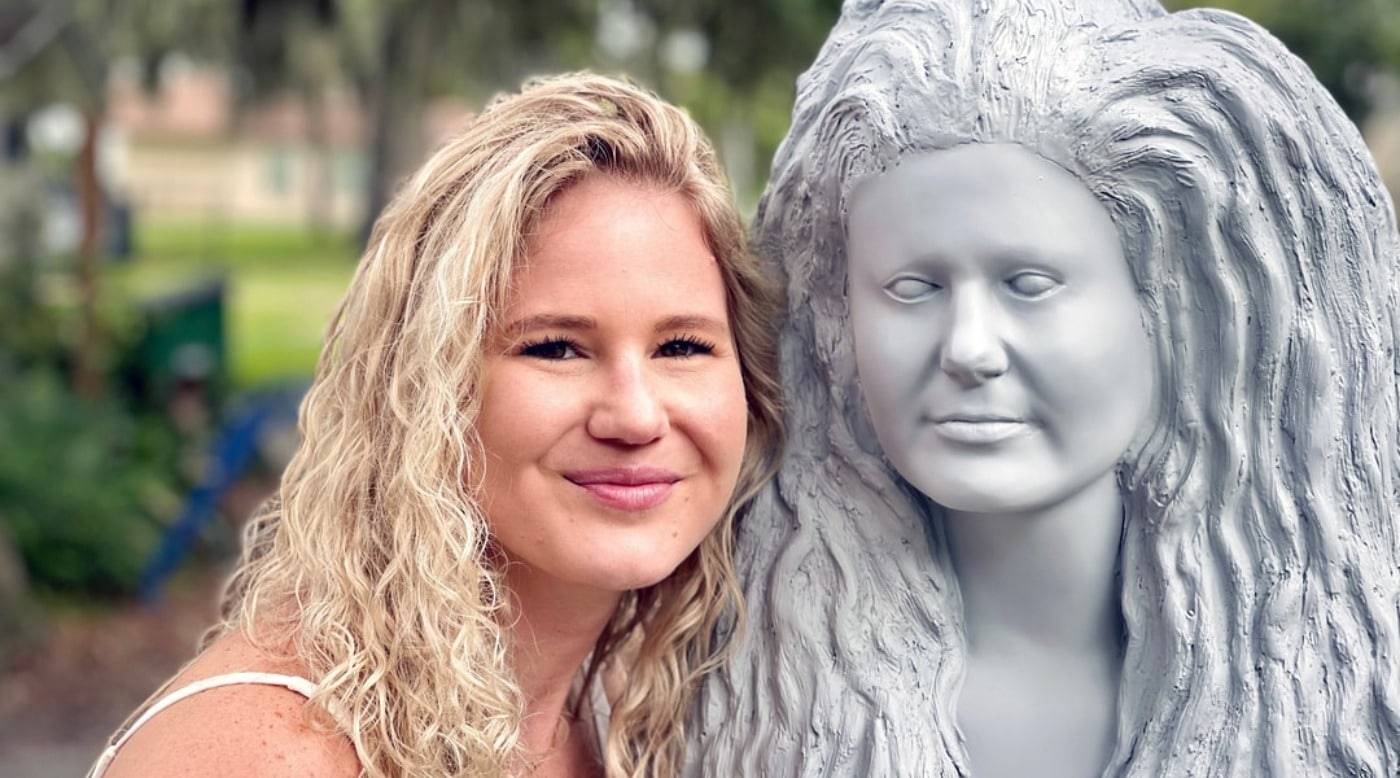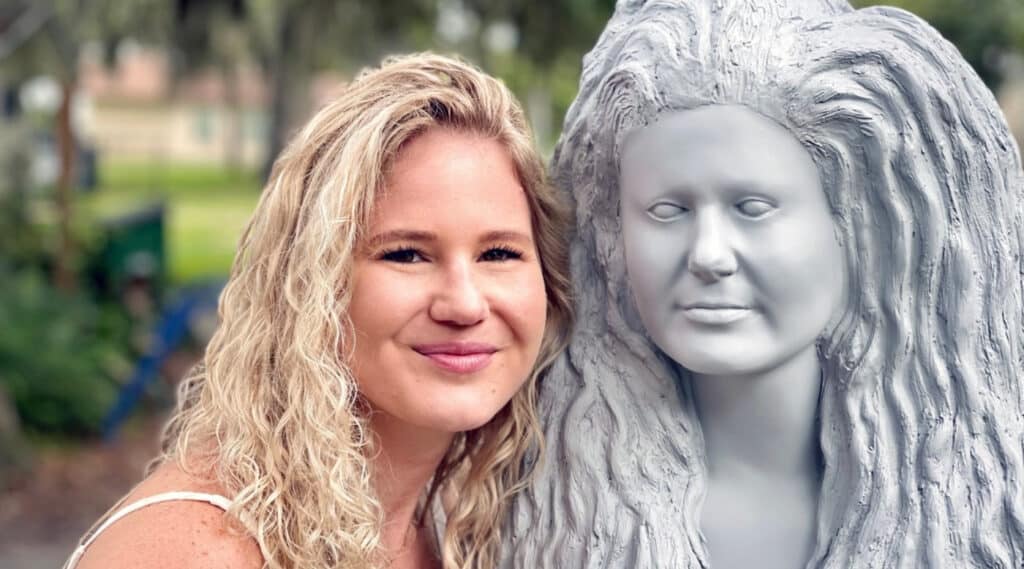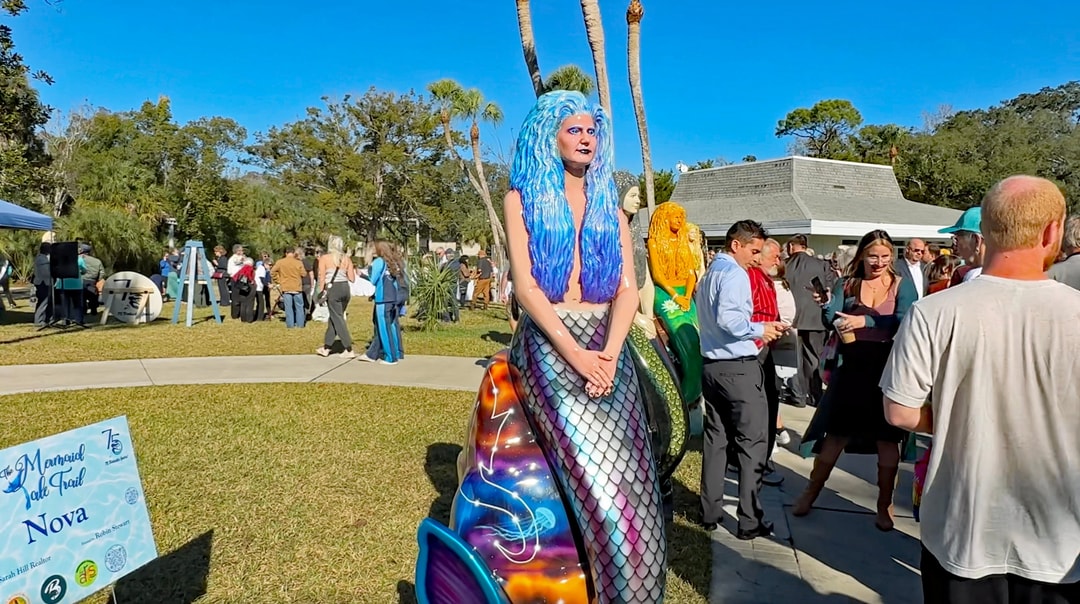 A Celebration of Weeki Wachee Springs State Park
The Mermaid Tale Trail celebrates Weeki Wachee Springs State Park, Florida's only spring-fed water park and one of Florida's most iconic roadside attractions.Founded in 1947, the park has been attracting mermaid enthusiasts from around the world for 75 years. Great for the whole family, you can visit a first-magnitude spring and enjoy a live mermaid show in the 400-seat submerged theater—a big improvement on the original 18-seat theater!Weeki Wachee Springs State Park and its mermaids are a key part of Florida's Adventure Coast, and their legacy will live on for years to come. As former mermaids say, "Once a mermaid, always a mermaid."