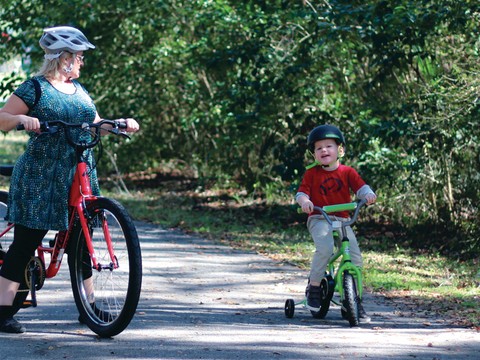 Seven Family Adventures on Florida's Adventure Coast
Florida's Adventure Coast, Brooksville-Weeki Wachee, offers a variety of outdoor adventures for your family or friends to enjoy. Whether you're up for padding, fishing or scallop diving, your water-based adventures are all here.
Florida's Adventure Coast offers a variety of family-friendly fishing spots to choose from, whether on the water or from the shore. In Spring Hill, Jenkins Creek Park has a fishing pier and provides access to coastal marshes and waterways that eventually merge with the waters of the Gulf. Across the street, at Linda Pedersen Park, you'll find other family-friendly amenities like grills, picnic tables and a dedicated kayak/canoe launch. If you're lucky, you'll even spy a manatee, known to frolic in the waters of Jenkins Creek.
The region's thriving coastal estuary is teeming with aquatic life, while underwater features also make the Gulf's waters a paradise for anglers. In this area, nearly 250,000 acres of seagrass beds blanket the Gulf of Mexico floor and provide food and shelter to a variety of fish and mollusks, along with other marine life.
If you and your group are visiting between the summer months, nothing is more fun and adventurous than diving for scallops in the warm waters of the Gulf of Mexico. Scalloping is fun, easy, and requires little in the way of gear or expertise, making it a popular adventure for all ages! Florida's Adventure Coast marks the southern border of the full season harvest range, where the season runs from July 1 through September 24. Our many boat captains offer scalloping charters with all the gear you'll need, while our "You Hook – We Cook" restaurants will be happy to prepare your catch with all the fixins.
Florida's Adventure Coast is a Paddler's Paradise with miles of popular canoeing and kayaking trails for an experience of Florida's natural beauty that you won't soon forget! Enjoy a great day on the water by renting from one of our kayak, canoe, or stand-up paddleboard outfitters, or launch your own vessel at one of our waterfront parks with kayak/canoe ramps. For a guided experience, explore with Get-up-and-Go Weeki Wachee, offering crystal clear kayaks and tours of the marsh at the mouth of the Weeki Wachee River.
Our Coastal paddling offers stunning views and a peaceful way to experience Florida's natural coastline. Discover the Bayport-Linda Pedersen Paddling Trail, a marked trail connecting Bayport Park and Linda Pedersen Park on Florida's Adventure Coast. At 1.7 miles one-way, go with the tide for an easy paddle or make it round-tip journey at 3.4 miles. Advanced paddlers can extend the trip to a full 4.8 miles by exploring the 1.4-mile Redfish Bayou Trail. Both Bayport Park and Linda Pedersen Park offer dedicated kayak and canoe launches, parking, restrooms, picnic areas and other amenities.
If your family or friends prefer land adventures, Florida's Adventure Coast has you covered! Regardless of your level of expertise, Florida's Adventure Coast offers some of the best bike trails in the state. Some are paved paths along former railroad beds that give cyclists safe, convenient places to ride. Others are dirt trails set deep within forests and preserves, offering wild escapes for trail runners, birdwatchers, and equine enthusiasts, as well as cyclists. The Withlacoochee State Trail, Suncoast Trail and Good Neighbor Trail are smooth, wide, paved expanses free of motorized vehicles and easily host all manner of bicyclists.
If fat-tire rides are more to your liking, you'll love the Withlacoochee State Forest. Nestled within the forest is one of the most extensive and highest elevation off-road trail systems in the region, with over 50 miles of single-track trails featuring natural limestone pits and rolling terrain, all lovingly maintained by SWAMP Mountain Bike Club volunteers, who also hold regular rides. Croom Motorcycle Area offers separate trails for ATV riders and mountain bikers, with special areas set aside for training and young riders. Visitors are welcome to join a ride or a workday. Local bike shop, Crank Works Bicycles, regularly hold organized rides, including night rides, open to all.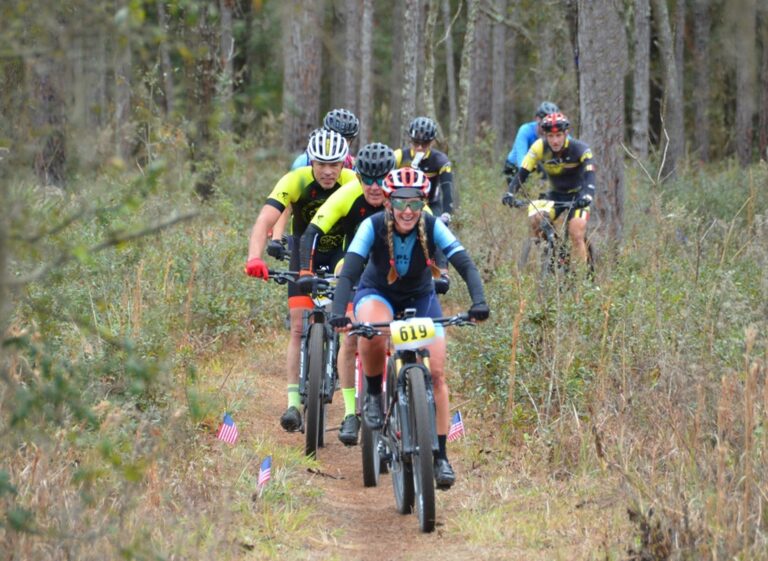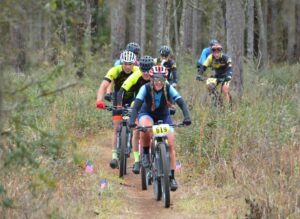 If more adrenaline is what you need, our ATV trails are filled with off-road fun for new and experienced riders alike. Located in the beauty of the Withlacoochee State Forest, only 45-minutes North of Tampa, lies Croom Motorcycle Area. 2,600-acres of ATV and BMX trails provide a high-octane dose of adventure. Local outfitters can provide you with rental vehicles as well as safety gear and lessons.
Adventures come in all forms. Wildlife viewing and bird watching in a preserve with a group of friends and family offers a milder adventure, with plenty of natural beauty. Having an abundance of wide-open spaces and undeveloped coastline, Florida's Adventure Coast, Brooksville-Weeki Wachee is brimming with opportunities for wildlife viewing. Many native species thrive here in Nature's Place to Play, including endangered or threatened species such as gopher tortoises, bald eagles, red cockaded woodpeckers, Florida scrub jays, green sea turtles, southern fox squirrels and the beloved West Indian manatee.
If you want to add some art and culture to your adventure, look no further than the mural tours throughout Florida's Adventure Coast, where Brooksville and Hernando Beach offer stunning murals for your discovery. You can find both art itineraries on our website.
Florida's Adventure Coast, Brooksville – Weeki Wachee offers affordable family fun at its natural best. A wonderland of outdoor adventures from mild to wild, centuries of history, Southern hospitality, and vibrant local color, offer a one-of-a-kind visit you won't soon forget.