Florida's Adventure Coast, Brooksville-Weeki Wachee is a water-lover's haven; from fresh-water rivers and lakes to the world-famous Weeki Wachee Spring to the Gulf of Mexico, cool, clear water invites and invigorates. Rogers Park, on the Weeki Wachee River, is popular with locals and visitors alike. With a sandy white beach, playground, picnic areas, and concessions, you'll enjoy a relaxing day waterside. For a bit more adventure, avail yourself of the canoe/kayak launch or boat ramp; play a little volleyball or enjoy the myriad of birds and wildlife in the area. 
Pine Island Park is known far and wide for its spectacular sunsets, but from sunrise to sunset, a visit to this park is a must for swimming or beach volleyball. Families will enjoy all the amenities including picnic areas and pavilions, showers and changing rooms, an observation deck, and Willy's Tropical Breeze Café. 
For those looking for underwater adventures, Florida's Adventure Coast offers both natural underwater beauty as well as a growing collection of artificial reefs.
DIVING, SNORKELING & SWIMMING
find where to make a splash
FLORIDA'S ONLY SPRING-FED WATER PARK
Swimmers will delight in Buccaneer Bay, Florida's only spring-fed water park located at Weeki Wachee Springs State Park. Featuring two water slides, the Cannonball and Pirate's Revenge, these slides will leave you eager to ride again and again.
Enjoy the sandy white beach or take a swim in the crystal-clear waters. Those looking to truly relax will enjoy the "lazy river," created by the spring waters as you float around the swimming area. 
NEARSHORE ARTIFICIAL REEFSBAY
Thanks to its unique Gulf of Mexico underwater landscape, 
Florida's Adventure Coast is prime artificial reef territory
. Mainly seagrass interspersed with rocky bottoms and occasional holes, there are few natural reefs. Adding well-placed structures with interesting spaces ensures thriving ecosystems and other environmental benefits.
Bendickson Reef, located some 20nm west of Hernando Beach, is  known as "The Tanks," and is the home of ten US Army M-60 tanks, already a popular destination for fisherman, scuba divers, and free divers. M-60 tanks are not commonly seen on the bottom of the Gulf of Mexico, so diving on these massive machines provide visitors with a very memorable underwater experience. Recently, a wide range of fish friendly materials including Custom fabricated pyramid modules and reef cubes were deployed to maximize habitat quality, diversity, and vertical relief needed for increasing fish productivity. 
Recent fish survey dives recorded schools of baitfish so thick that they appeared as underwater walls blocking a clear view of the new material. Many different species of fish have taken up residence on the new material, including gag grouper of all life stages, mangrove snapper, sheepshead, hogfish, Spanish mackerel, queen angelfish, Atlantic spadefish, and even schools of snook.
Closer to shore, three shallow snorkeling reefs have also been created. The first of its kind on Florida's Adventure Coast, these shallow water high relief structures provide maximum interstitial space needed for creating refuge areas for schooling baitfish and foraging areas for fish migrating in and out of the Weeki Wachee estuary. 
Each site is comprised of a linear array of 1400 lb reef balls deployed in natural sand depressions with 57 reef balls deployed at the largest of the three sites, Site B.
Site C contains 53 reef balls and the smallest site, Site A, contains 25 reef balls. All of the sites are located within close proximity (2 to 3.5 miles) of the Bayport and Hernando Beach channel-lighted entrances. These new aquatic habitats rest among sprawling seagrass meadows dotted with blue-eyed bay scallops.
dive for your new adventure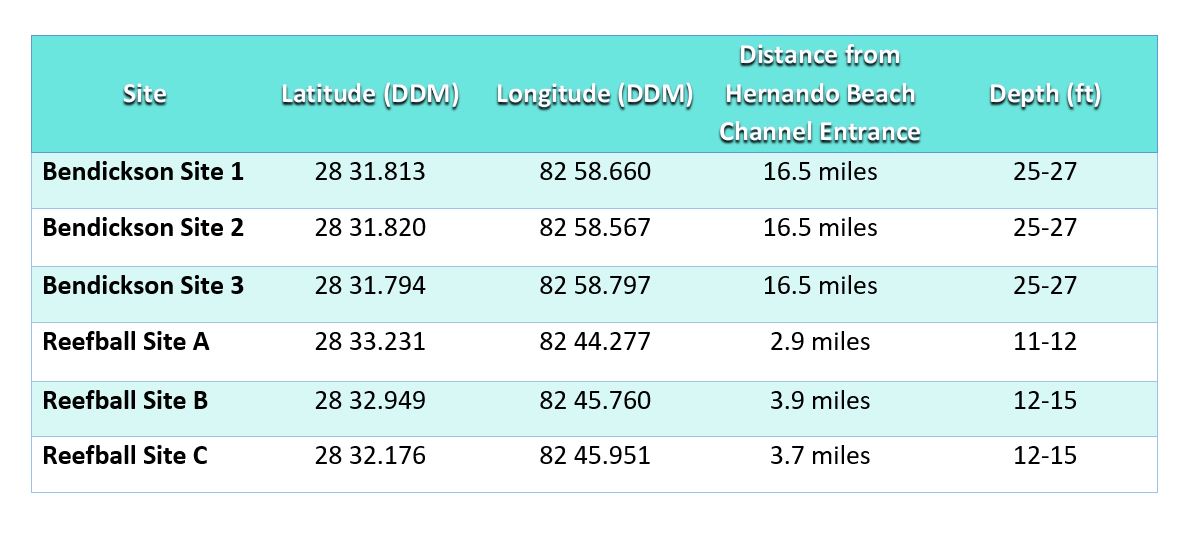 Discover Underwater Adventure on Florida's Adventure Coast
Dive our Aquatic Reef Balls on Florida's Adventure Coast, Brooksville-Weeki Wachee
Located within Weeki Wachee Springs State Park on Florida's Adventure Coast, Brooksville-Weeki Wachee, Buccaneer Bay is Florida's only spring-fed waterpark.
SHARE WITH #FLADVENTURECOAST