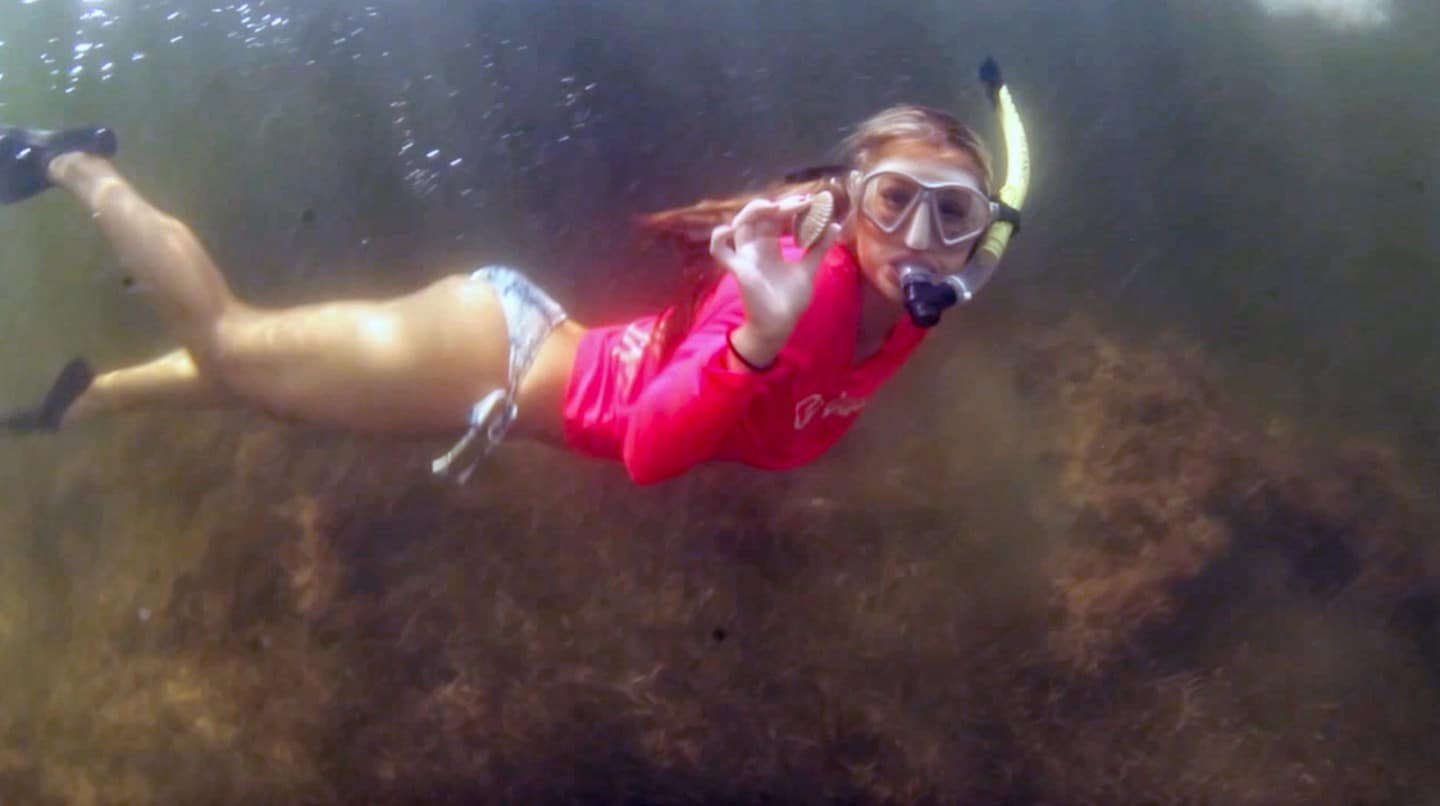 Learn to Scallop Dive – and Plenty More – on Florida's Adventure Coast
Looking for something new to try on your summer vacation? On Florida's Adventure Coast, Brooksville-Weeki Wachee, we have options where you can relax, have fun, and learn something all at the same time! Learning something new is a great adventure, whether indoors or out.
If you want to get out on the water and learn something new and fun, with an easy learning curve, scalloping is just the activity for you and your family. With the ability to swim as your only prerequisite, learning how to scallop is extremely easy. All you need is a mask, snorkel, fins, and a bag to collect your scallops. Floating or swimming along the surface, you'll spy those bright blue eyes in the seagrass. Grabbing them before they scoot away is the trick, but it won't take long to get into the groove. Scoop up your fill and take them to one of our "you hook – we cook" restaurants where they'll prepare your catch with all the fixins'.
Kayaking our pristine rivers or Coastal Paddling Trail is fun but can be challenging for novice paddlers. Fear not, the folks at Get Up and Go Kayaking-Weeki Wachee, are dedicated to teaching you how to kayak while offering a first-hand look at the eco-systems of Weeki Wachee, while navigating through the gorgeous estuaries in crystal clear kayaks. Your tour guides are Florida naturalists and a conservation biologist, offering both paddling and world of information about the flora and fauna that make up the picturesque marsh at the mouth of the Weeki Wachee.
Enjoying the hiking of trails and preserves on Florida's Adventure Coast is breathtaking, but you can add some education to your hike by visiting the Chinsegut Conservation Center. Here you'll find miles of trails, including a boardwalk, thru pristine forests and birdwatching areas. Sign up for one of their classes and learn backpacking, animal tracking, archery, photography, and compass navigation.
Have you ever wanted to learn how to be a mermaid? Weeki Wachee Springs State Park, home of the World-Famous Mermaids, offers Mermaid Camps for kids and adults alike during the summer months. Sign up to learn how to swim like a mermaid from the iconic mermaids themselves.
When ready to escape the heat and sun, head for a cool class. From kids classes to more adult themes, our local artisans and shops have options for every age and interest.
Located in downtown Brooksville, Florida Makers Mercantile is a one-stop location to shop and support many of local makers. They also offer classes on a variety of subjects from the makers themselves. Learn how make a variety of crafts on display and customize them as mementos of your trip or gifts for those waiting at home.
Also located in downtown Brooksville, Panbanged Knits and Fiber Shoppe is committed to help you expand your skills and your wardrobe. Join them for monthly classes in crochet and knitting, as well as felting, where you'll learn all you need to create your own wearable art. With stunning designs, expert teachers and a wide array of yarns and supplies, you'll find plenty of inspiration. Can't wait for the next class? Don't worry, you can book a one-on-one class on your schedule.
Perhaps your creative side years for a little paint? The Craftastic Cottage Art and Craft Studio in Spring Hill is open to all ages. Stop by for Open Paint and let your creativity lead the way or for more formal instruction, sign up for a class. Whether you're looking to have some fun with your kids or leaving them with Grandma to enjoy a night of painting with your favorite adult beverage, there's room for everyone.
Looking for something to enhance your culinary skills, The Hernando County Little Rock Cannery is a place where you can learn how to prepare fruits, vegetables, meats, and seafood for canning. Professional staff are always on hand to process jars and to assist new canners as well as the many "seasoned" canners that have been canning for years. The cannery offers classes (and supplies) throughout the year and can be a fun and delicious adventure!
When you choose to combine a little learning with a lot of adventure, the possibilities are endless on Florida's Adventure Coast, Brooksville – Weeki Wachee. What new skills will you take home with your memories? Visit our suggested itinerary to learn on vacation on Florida's Adventure Coast!