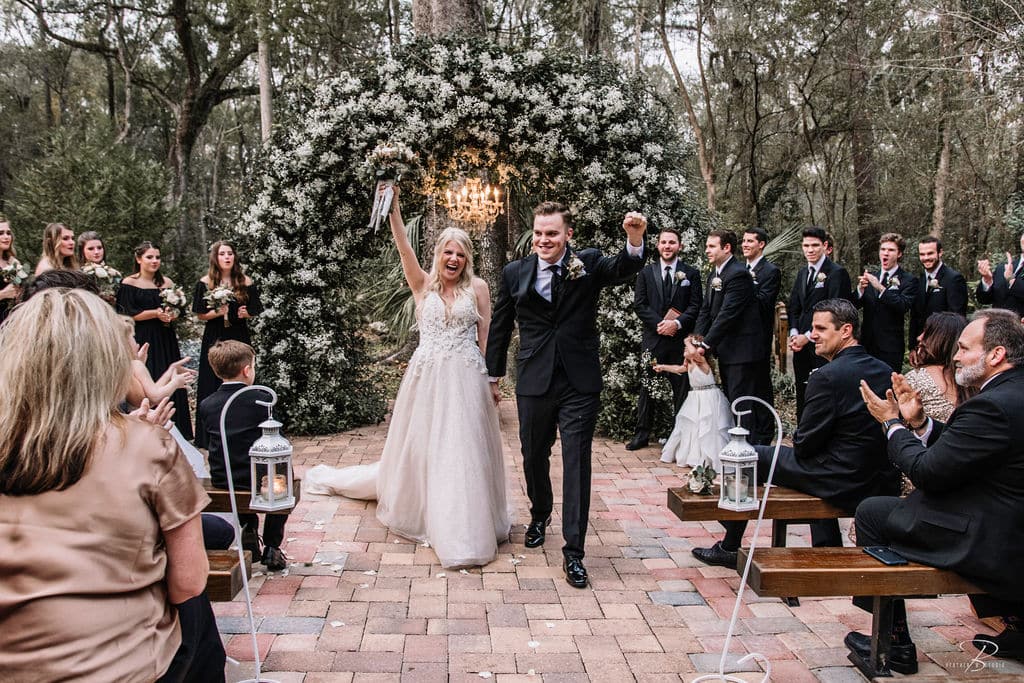 You Said Yes! Now what? Find the Perfect Wedding Venue on Florida's Adventure Coast
Finding the perfect wedding venue isn't easy. Whether you're looking for a charming barn, elegant ballroom, cozy restaurant, or picturesque outdoor setting, there are so many options to choose from.
Many factors go into choosing the right venue. Perhaps it's your vision of the perfect day, the number of guests invited, your budget, the list goes on and on.
On Florida's Adventure Coast, Brooksville-Weeki Wachee, there are a plenty of options to choose from to make your special day even more spectacular.
Sparacia Witherell Family Winery and Vineyards
Located on one of the highest elevations in the State of Florida, Sparacia Witherell Family Winery and Vineyards sits 275-feet above sea level, growing native muscadine and hybrid varieties of wine grapes. Say "I do" surrounded by vineyards, lush greenery and spectacular vistas of rolling hills.
The Olive Grove
With over 300 traditionally spaced olive trees, The Olive Grove Is a unique outdoor venue for any event. With twinkling lights dancing among the trees, the Orchard becomes a magical place for an evening wedding, while the landscape offers a picture-worthy backdrop for memories and photos alike.
The White Barn
The White Barn, surrounded by graceful swaying trees, puts your ceremony front and center with choice of either the hand built Oak Cross or arched Barn Door backdrop. Couple's initials are monogrammed on the fence welcoming the guests to you special day. Cocktail hours are staged outside while receptions move inside The White Barn, surrounded by warm white led custom lighting and custom-tailored draping, creating the perfect amount of elegance.
Simpson Lakes
The breathtaking beauty of Simpson Lakes is the perfect backdrop for your big day. Whether you choose to celebrate lakeside on their custom island sitting between the two lakes or take the party indoors in their chic 13,000 sq. ft. farmhouse style lodge, they can help you create an experience your guests will never forget.
Pine Island Park
If the beach is the theme of your wedding day, then Pine Island is the perfect place to exchange your vows. You and your guests will be surrounded by the beauty of the Gulf of Mexico, stunning views and gorgeous sunsets. It's the perfect place to celebrate an everlasting love.
Saxon Manor
The Saxon Manor in Brooksville, Florida offers a variety of wedding options. Choose from the Glass Palace, surround by acres of lush manicured green lawns and tall oaks draped with Spanish moss, one of many outdoor garden areas or the The Shabby Chic Barn, with chandeliers, and vintage farm tables.
The Barn at Oak Creek
The Barn at Oak Creek is located on a private and secluded 63-acre farm. The rolling hills, centuries old grandfather oaks and live meandering creek, give this venue its spectacular views and endless possibilities for photographs and memorable backdrops. The spacious barn offers 4300 square feet, equipped with two dressing rooms, two large bathrooms, a service kitchen, and ample space for dining and dancing.
These are just a few of the magnificent venues we have to offer. For a complete list, visit our website, and click the tab for weddings; you'll find all the venues and services you need to complete your special day on Florida's Adventure Coast, Brooksville-Weeki Wachee.