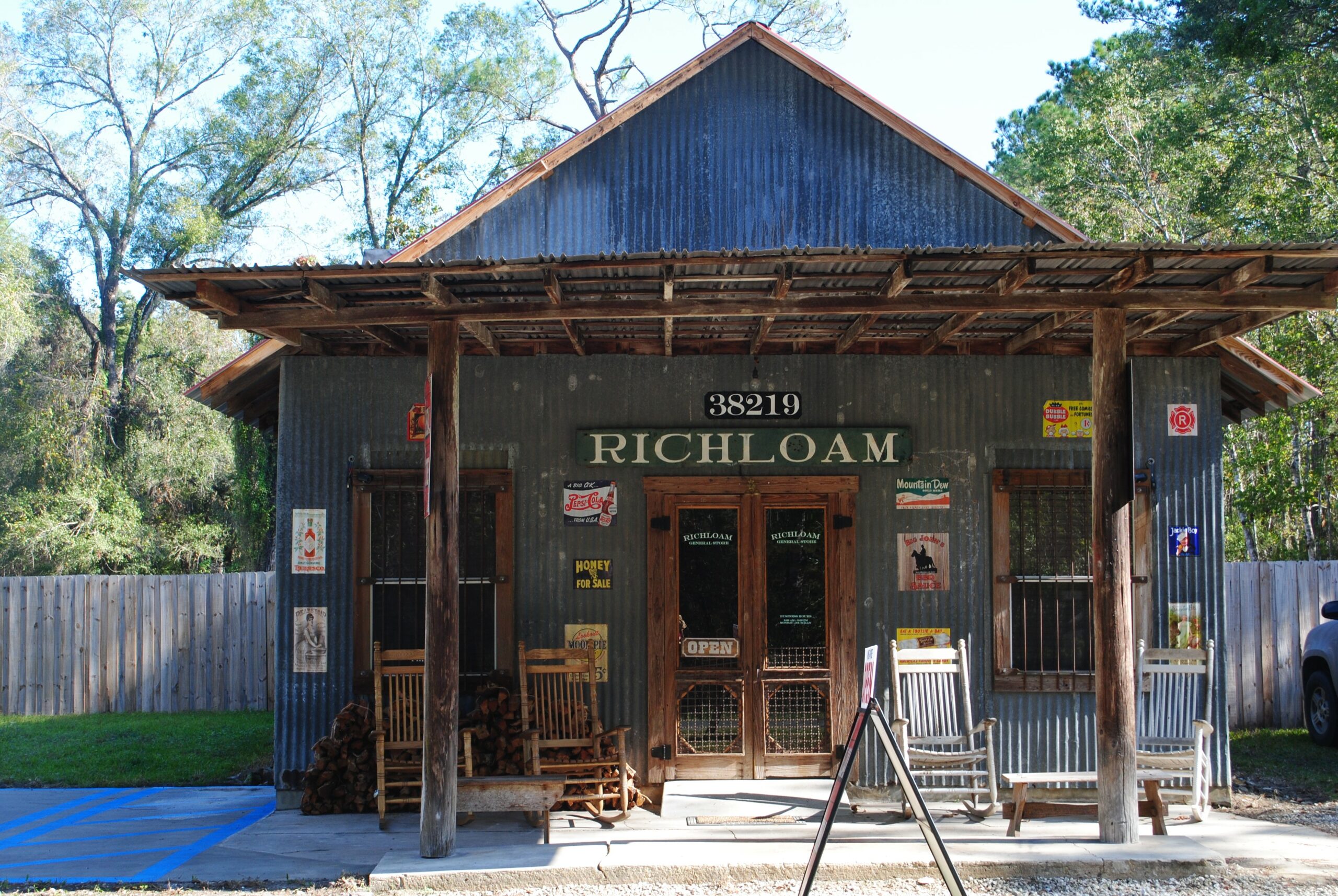 Richloam General Store – History on Florida's Adventure Coast
In the tiny town of Richloam, population 12,000, sits Richloam General Store. A true piece of American History which has endured since the early 20th century.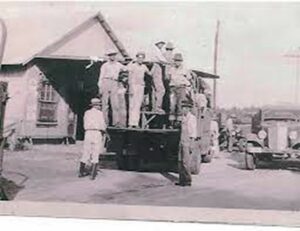 Richloam General Store on the eastern edge of Florida's Adventure Coast, Brooksville-Weeki Wachee was founded and built by Sidney Brinson. The building served as the Express office, the Post Office and the general store for the community of Richloam, which was founded as a turpentine camp, but was converted during the 1920s Florida land boom into farmland. The building was constructed in 1928, after the settlement's former general store burned to the ground. Its metal siding was a conscious design decision to prevent future fires. The Richloam General Store was the short-lived settlement's only general store and post office, and it provides a tangible connection to a long-gone community.
In 2016 – Brinson's nephew, and now current owner, Eric Burkes, decided to renovate the store, using as much of the original building materials as possible, including original sheet metal for the walls, various signs, and some of the bricks. A visit today reveals many messages of yesteryear scrawled on the walls themselves.
The front porch has several rocking chairs where you can sit and enjoy the peace and quiet of the surrounding forest, enjoy an ice-cream cone or even a homemade root beer, sweetened with Richloam honey.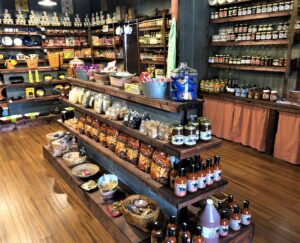 From the moment you walk through the front door, you feel like you've stepped back in time. Of course, you can't visit a general store without looking at the many items on the shelves themselves. The Richloam General Store stays true to the time period and offers goods you would have seen in the 20s and 30s; items you won't necessarily see in today's grocery stores. Jams and jellies, sauces, local honey, salt-cured meat, and jars of candy all offer up a taste of life in simpler times. They even have a small ice cream parlor! The only modern item for sale in the store is the family's BBQ sauce, made from the secret recipe of Burkes' late father, Big John.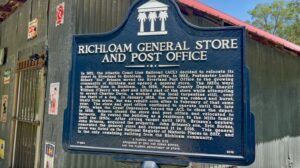 Richloam General Store and Posted Office was placed on the National Register for Historic Places by the United States Department of the Interior on October 12, 2017. The Richloam General Store company is still family owned and operated. Eric's plans include restoring the train depot and eventually, the entire community of Richloam.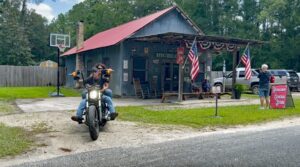 For those who enjoy cruising or motorcycle touring on Florida's Adventure Coast, Richloam General Store is the perfect stop along your journey. Enjoy a root beer, an ice-cream cone or pick up some BBQ sauce and set a spell on the porch.
A must-see on Florida's Adventure Coast, Richloam General is located at 38219 Richloam Clay Sink Rd., Webster, FL 33597. They can be reach by phone at (800) 915-8027.