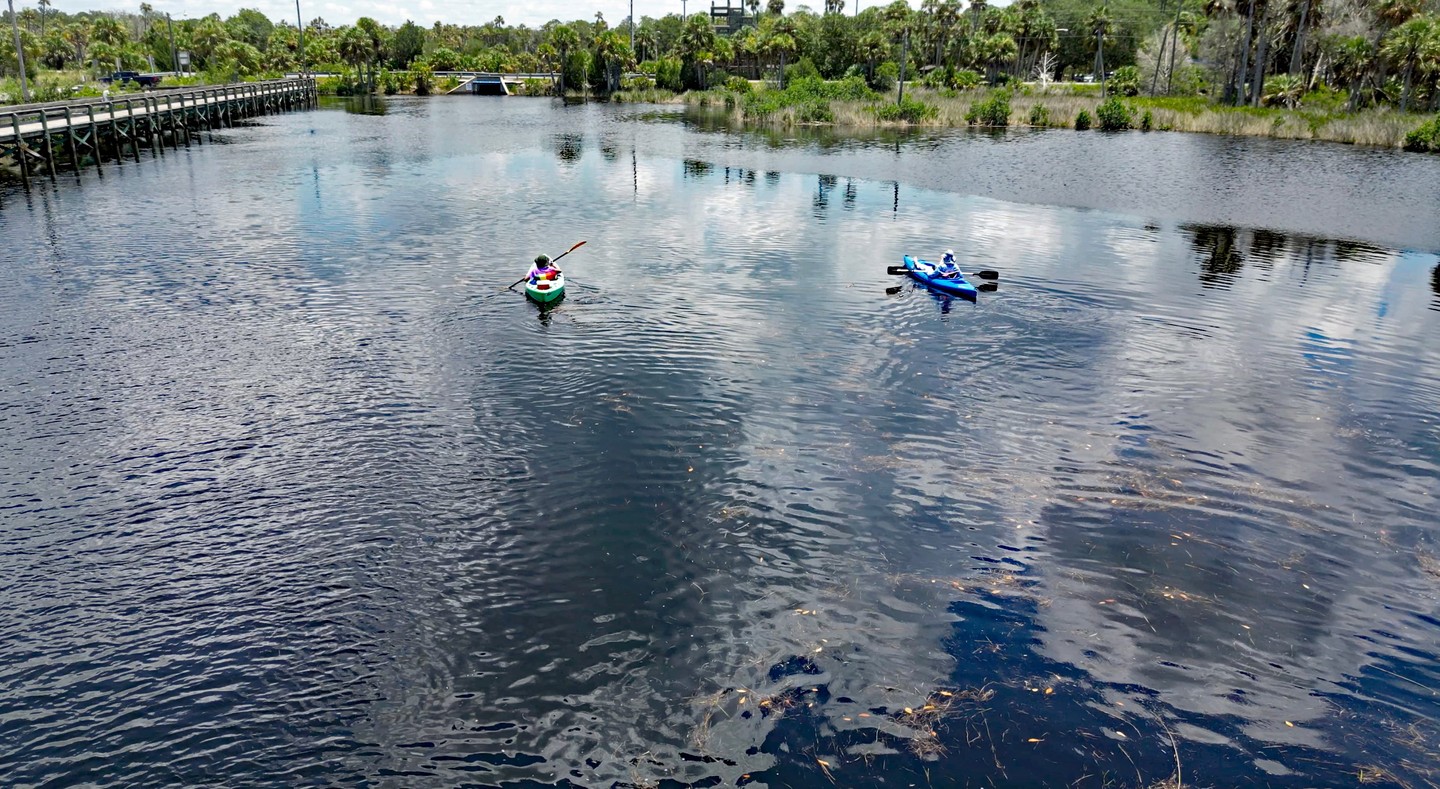 Relax and Reconnect with Nature on the Bayport – Linda Pedersen Paddling Trail
This hidden coastal trail offers some of the most peaceful kayaking on Florida's Adventure Coast.
Where: Weeki Wachee and Hernando Beach, FL
Some of the best places to paddle in Florida are the quietest – places where you can imagine what this beautiful state may have looked like long, long ago, before it even had the name 'Land of Flowers.'
For me, this spot is the salt marshes and coastal habitats leading out to the Gulf of Mexico, where freshwater rivers and saltwater meet. Although photos cannot do it justice, this area holds a special place in my heart. It's where a family goes out in a small boat to explore, or simply cast a line and hope something bites. It's the natural, non-party waterway, where people enjoy the peaceful sounds among mangroves and palm trees, and tall grasses stretching out farther than the eye can see.
The Bayport-Linda Pedersen Paddling Trail is 1.7 miles one way, or a round-trip journey of 3.4 miles. Advanced paddlers can extend the trip to a full 4.8 miles by exploring the 1.4-mile Redfish Bayou Trail. Away from the crowds, you'll have plenty of chances to spot wildlife – especially in the early morning or late afternoon. Dolphins and manatees are often seen in this area and even the occasional river otter! Watch the treetops for eagles and osprey, as well as the shoreline for herons and wading birds. Be aware that water clarity will depend on how recently it has rained, especially in the brackish waters around Linda Pedersen Park.
There are two trailheads for the Bayport-Linda Pedersen Paddling Trail. Paddlers can start from either Bayport Park, where they'll find a small launch for kayaks, restrooms, pavilions, and a fishing pier; or start from Linda Pedersen Park, where paddlers have a modern kayak launch, pavilions, restroom facilities, and a wooden tower to climb up for a scenic view.
For an easy launch, we recommend starting from Linda Pedersen Park. It's a quiet, beautiful park where families take scenic walks and locals fish from the banks. Best of all, this park has a great kayak launch that allows you to get your kayak ready, sit down and launch yourself into the water easily.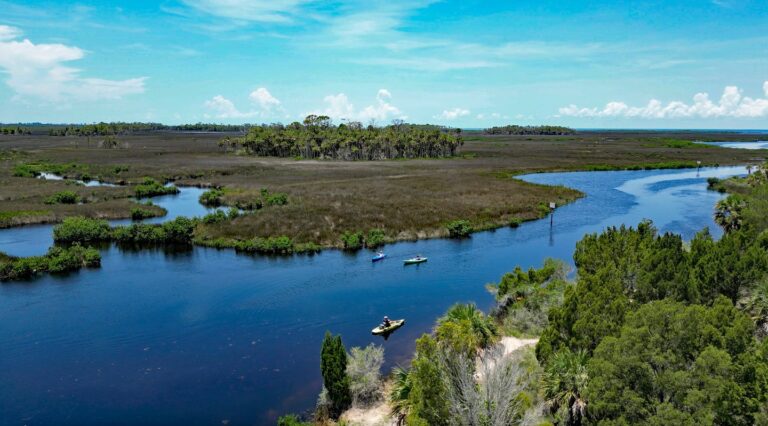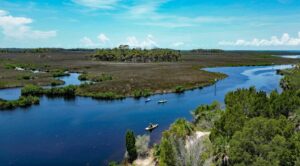 Tips to Remember
Plan Ahead
With it being a coastal paddling trail, there are a few aspects to be aware of for safety and to have the most fun on your trip possible. First of all, coastal paddling is inherently different from kayaking on a freshwater river – Check the tides and weather forecast beforehand, and go with the tide for an easy paddle.
A great aspect of the Gulf of Mexico is that it's shallow. You may find a sand bar to rest along the way; here it's best to wear boat shoes, or a pair of sneakers to avoid stepping on oyster shells.
Love it like a Local
Remember the small boat with a family exploring? Those folks also use this water, and you will come across them as they make their way out to the open Gulf waters. The Coastal Trail is predominantly in a no-wake zone; simply make way for boaters by paddling closer to shore. Remember to pack it in, pack it out. Tie your belongings onto your vessel to avoid losing anything.
Watch for Wildlife
Always respect wildlife by keeping a distance and letting them have the right of way. Wearing polarized sunglasses can help you spot creatures in the water, giving you a better chance of spotting manatees! If you're a birder you may want to bring binoculars as well.
Looking to rent a kayak to explore the Bayport-Linda Pedersen Trail? Some local companies that can help you explore this unique waterway include Kayaking and Get Up and Go Weeki Wachee.
.