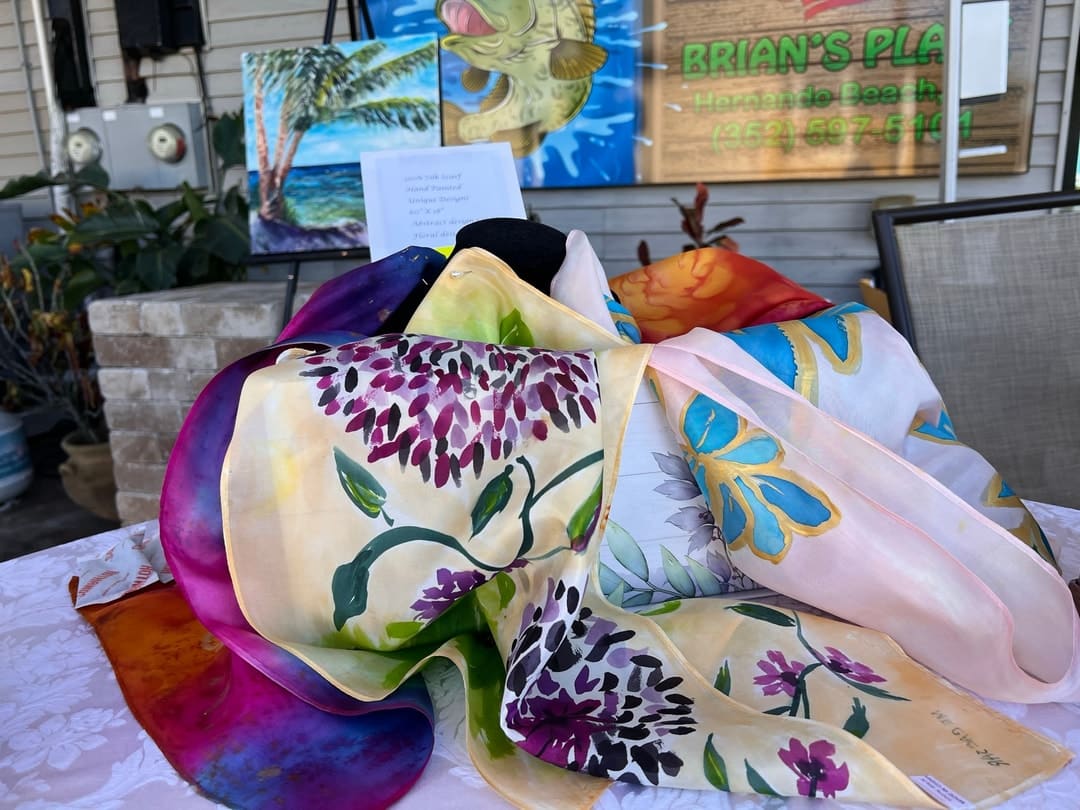 Artistic Communities on Florida's Adventure Coast
Discover Local Artists at Hernando Beach's Front Porch Art Walk
Fans of Florida's Adventure Coast, Brooksville – Weeki Wachee are sure to have visited Weeki Wachee Springs State Park, renowned for its famous mermaids and the underwater performances that have charmed guests since 1947. With one of deepest first-magnitude springs in the state and its crystal-clear waters, creative minds were sure to be inspired; such is the case in the arts community of Hernando Beach, FL.
Just west of the famed Weeki Wachee Springs, Hernando Beach is filled with artistic minds and natural beauty; despite the misleading name (there is no beach, although visitors will find one at Pine Island Beach Park). What you will find at Hernando Beach is a picturesque condo-free coastline, with a scenic drive down Shoal Line Boulevard offering wide views of the coastal wetlands, connecting rivers like the Weeki Wachee to the Gulf of Mexico. Wildlife spotting opportunities abound, with manatees, dolphins, bald eagles, and wading birds making appearances on waterways and at parks along this scenic roadway. Some of our Parks are Great Florida Birding Trail sites and are popular with both birds and birdwatchers.
Starting in 2023 on the first Saturday of every month, local artists, crafters, and artisans meet along Shoal Line Boulevard for the Front Porch Art Walk. From 10 am-2 pm, visitors can browse the works of local artists at different locations in Hernando Beach, including local restaurants and shops, while enjoying live music and dining in this charming community. You're sure to find something unique to take home, with many works inspired by 'old Florida' coastal wildlife, mermaids, and manatees.
Don't forget to visit the Silver Dolphin Restaurant and Country Store for even more locally made treasures, from sculptures and paintings to jewelry and other hand-crafted items inspired by Florida's natural beauty.
Make Plans for Brooksville's Art in the Park
Held annually on the second weekend of March, Art in the Park is the largest juried art show on Florida's Adventure Coast, celebrating a community of artists both local and from other parts of Florida. Since 1984, artists and artisans have showcased a wide variety of works and mediums underneath the oak trees at Tom Varn Park, just minutes from historic downtown Brooksville. Walk along the paths of this beautiful park festival and enjoy a celebration of artistry, with live music and demonstrations, interactive installations, a children's art tent and display, food trucks, and family-friendly activities.
Whether an annual festival, a monthly art walk, or the many installations and murals around the community, it's clear the natural beauty of Florida's Adventure Coast is inspiring to artists and art lovers alike.