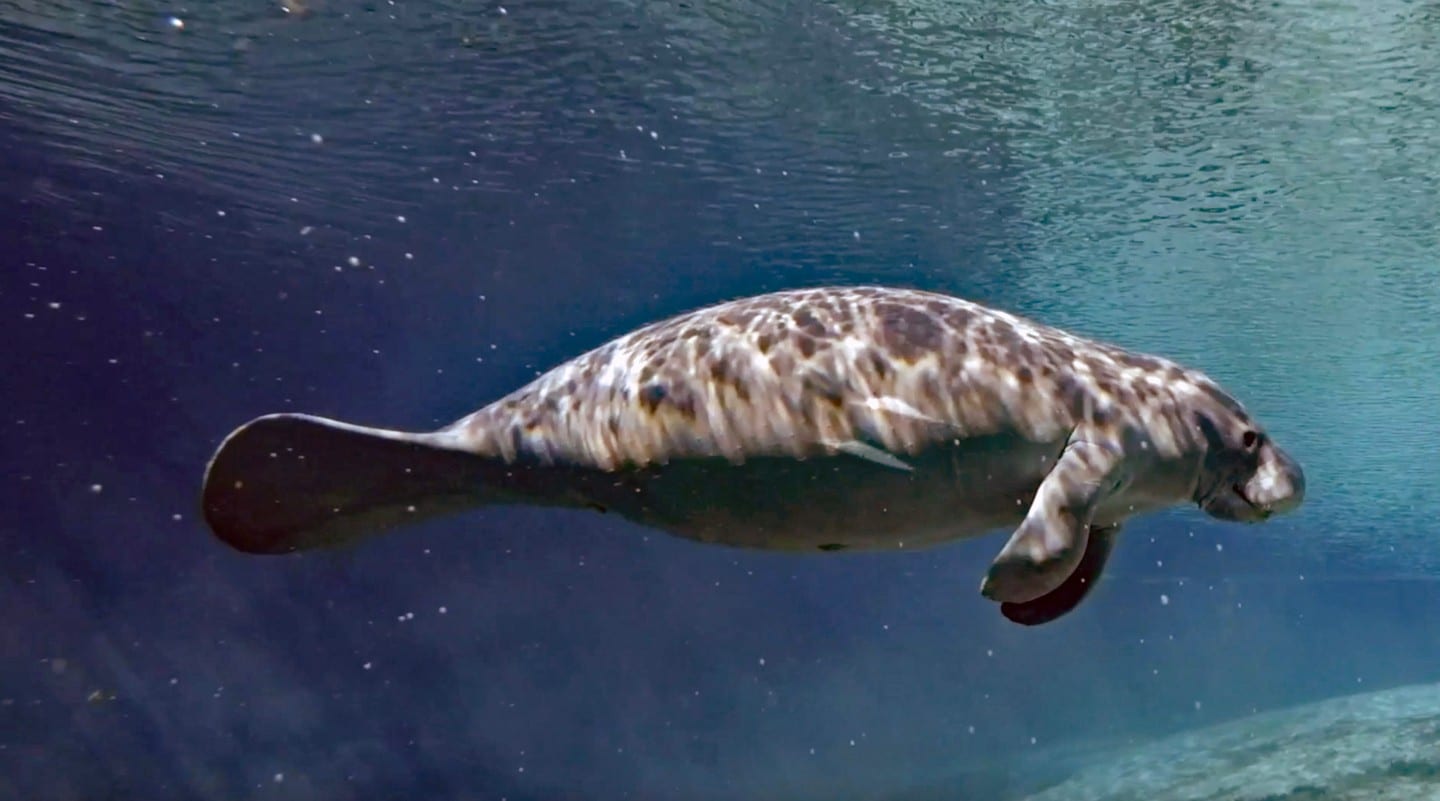 Watch for Manatees on Florida's Adventure Coast
Manatees wander Florida's waterways throughout the year, but November through April is officially known as Manatee Season in the sunshine state. As the Gulf of Mexico waters cool in the winter months, these warm-blooded mammals will move further inshore in search of warmer waters. Manatees can be found huddled together in large numbers surviving the cold in springs and spring-fed rivers, such as Weeki Wachee, that have an average temperature of 70 degrees year-round.
If you encounter a wild manatee, it is an unforgettable experience and an extraordinary way to experience Florida's natural wonders. Especially during Manatee Season, human engagement can potentially put these gentle creatures at risk; it's important to know and remind others to 'look but do not touch,' and give them plenty of space to help them survive.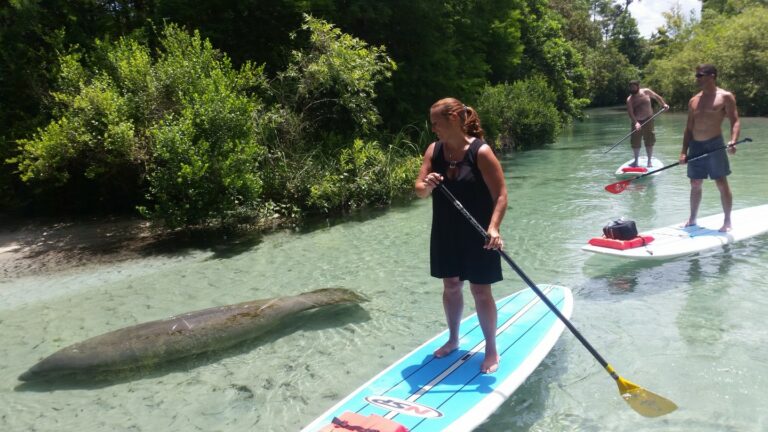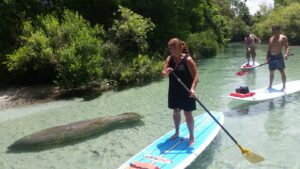 On the Water
Paddling is one of our signature adventures on Florida's Adventure Coast, and a great way to possibly spot a manatee. Coastal paddling offers lots of wildlife spotting opportunities, as well as stunning views and a peaceful way to experience our natural coastline. Launch a kayak or canoe and discover the Bayport-Linda Pedersen Paddling Trail and watch the shoreline and treetops for possible sightings of bald eagles, manatees, river otters, a variety of shorebirds, and more.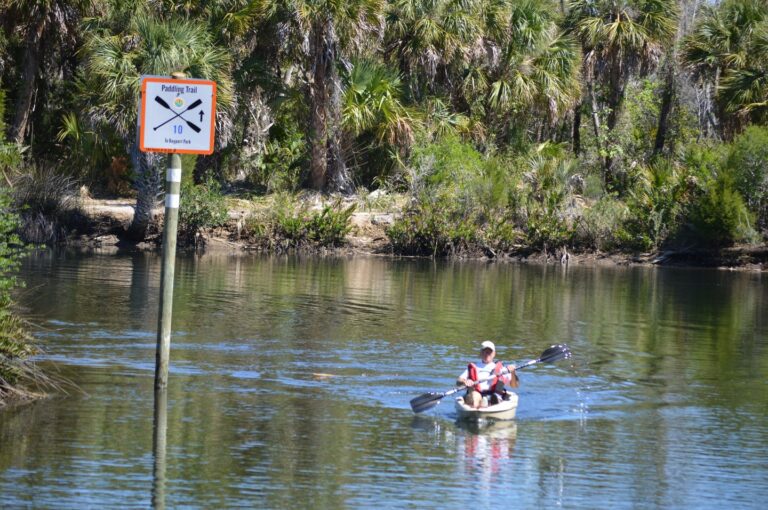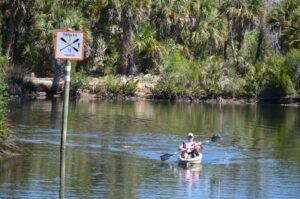 Especially during manatee season, it's important to remember to 'look but do not touch.' Disturbing a manatee at this time of year could mean forcing it to move from warmer waters to potentially life-threatening cold water. It's important to give the creatures plenty of space, never touch them and remember that it is illegal to harass them in any way.
Celebrate Manatee Awareness Month by remembering these 'Manatee Manners' for boating and paddling:
• Slow Down: Always be mindful of 'no wake' and 'manatee zone' signs.
Tip: you can wear polarized sunglasses while boating to reduce the surface glare, and to help you see shallow areas and seagrass beds. Polarized sunglasses can also help you see and avoid manatees and underwater hazards.
• Protect Seagrass: With a nickname like 'Seacows,' you could guess that Manatees are grazing animals – and you would be right! Avoid trampling seagrass while paddling, and you can help protect this important food source. When in doubt about the depth while boating, slow down and idle to avoid scarring the bottom. Tip: If you are leaving a muddy trail behind your boat, you are probably cutting seagrass. If you run aground, pole or walk your boat to deeper water.
• Plan Ahead: Use navigational charts, fishing maps, or local boating guides to become familiar with waterways before boating. These nautical charts alert you to shallow areas, so you don't run aground and damage seagrass. Know the times for your low and high tides.
Tip: Bring reusable containers instead of wrapped foods or plastic bottles and tie your belongings onto the vessel to avoid leaving anything behind accidentally.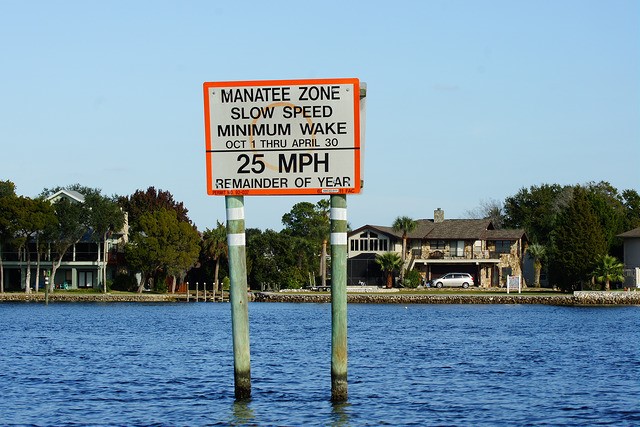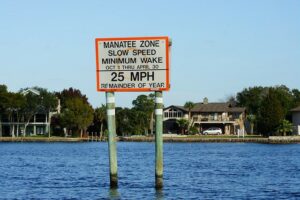 On the Land
Beautiful coastal parks can be found in the communities of Weeki Wachee and Hernando Beach, where you may have a chance of spotting manatees, especially in the cooler months.
Situated on the Gulf of Mexico, Bayport Park offers manatee-spotters plenty of vantage points, a boat launch for paddlers and plenty of picnic spots. You can also spot them slightly further inland at Jenkins Creek Park and Linda Pedersen Park in the coastal waterways that connect to the Gulf of Mexico.
At Linda Pedersen Park, the 40-foot viewing tower offers a great way to scan the waters for the massive marine mammals and allows you to soak up the panoramic views of the Gulf of Mexico at the same time. For paddlers, the 1.7-mile Bayport-Linda Pedersen Paddling Trail connects Bayport Park and Linda Pedersen Park and offers the chance to catch glimpses of browsing manatees, along with dolphins, coastal birds, and other wildlife.
If you see a sick, injured, distressed, or tagged manatee, call the FWC's Wildlife Alert Toll-Free Number 1-888-404-FWCC (1-888-404-3922). Scientists and volunteers can often successfully rescue and release these gentle animals back into the wild.
Ready to learn more about these amazing creatures and viewing them? Visit https://floridasadventurecoast.com/water-adventures/manatee-viewing/ to get started.