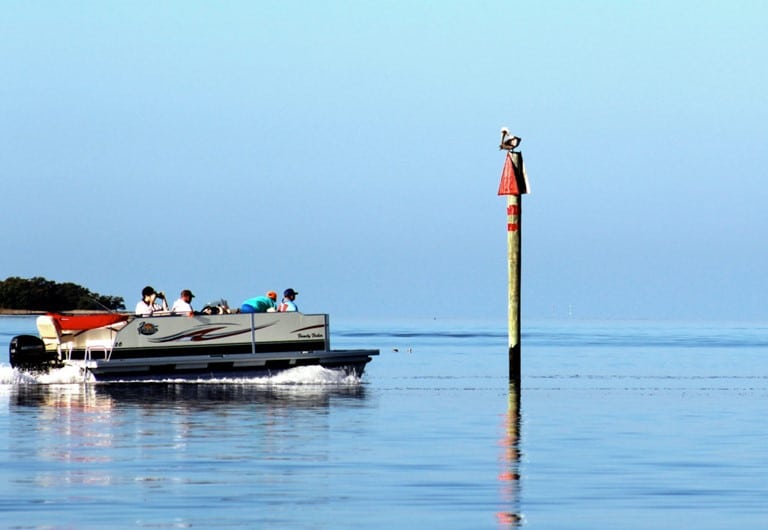 PONTOON FLOATIN' MOTOR BOATIN' FUN TIMES ON FLORIDA'S ADVENTURE COAST
Like the summertime anthem "Pontoon" from Little Big Town, many on Florida's Adventure Coast love "Making waves and catching rays up on the roof."
Sometimes taken for granted, time spent together with family and friends is now more precious than ever. How and where to gather in ways that are safe, clean and fun for all has become a unique challenge. Boating, a classic year-round Florida's Adventure Coast pastime, is enjoying renewed popularity as the perfect choice. Fresh air, sunshine and open water deliver thrills and memories to last a lifetime. Why not plan your day on a pontoon boat cruise?
What is a pontoon boat?
Distinctive for its general shape, this type of boat features a flat deck over hollow airtight tubes used for floatation. Beyond that, these boats can be endlessly accessorized and personalized.
On Florida's Adventure Coast, pontoons are shallow water go-to boats. Great for recreation and skinny water fishing, Hernando County's Gulf region boasts water depths best-suited for shallow draft vessels.
Boaters using the Hernando Beach Channel can rely on a controlled depth of six feet but must be mindful of low tide and rocky obstacles. Near the coastline around Hernando Beach and Bayport channels, water is roughly two-to-three feet deep and four-to-six feet a couple of miles offshore. Beyond the channel entrance, the Gulf is approximately six-to-eight feet deep, dropping about one foot for every mile.
Because of their design, most pontoon boats are fine in water as shallow as three feet. Due to delicate seagrass ecosystems however, boaters are reminded to keep to marked channels near shore. Florida law prohibits damage to seagrass beds and boaters must avoid taking shortcuts across seagrass beds to avoid causing propeller scars and damaging the environment.
"Party in Slow Motion" at the Hernando Beach Flats
Bathwater warm waters near some small, rocky barrier islands are a gathering hotspot for social boaters. Known informally as The Hernando Beach Flats, most summer days find the waist-deep waters filled with a mix of anchored or rafted up boats, many of which are pontoons. Popular with families, anchored boats are often centerpieces, surrounded by inner tubes, floats and umbrellas. Wide, roomy pontoon boats generally feature shady covered decks.
While there is no actual beach in Hernando Beach, the sandy bottom and warm, clear, shallow waters of the sprawling nearby Flats is a great choice for summer blue sky days or as a front row seat to spectacular sunsets.
Thanks to wide flat deck space, the pontoon boat ride is stable and comfortable. While some boats offer performance, speed and sleek style, they may also present a limited amount of seating. Pontoon boats generally feature cushioned benches or couches with space to walk around. Benches also double as storage, adding to the roomy effect. Most pontoon boats are designed with an outer railing too, enhancing family-friendliness and safety. More space and seating equals room for more guests to spread out. And, the more people onboard, the more interests they have. Accommodate those who want to swim, sightsee and lounge together with those who want to cast a line.
During scallop diving season on Florida's Adventure Coast, pontoon boats are a perfect fit, with plenty of space for snorkeling gear and coolers. The July 1 through September 24 season is a happy annual tradition for many family and friend groups.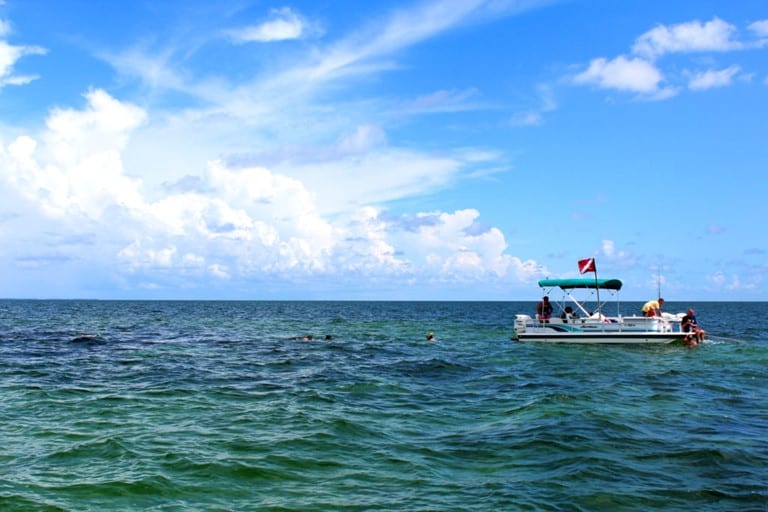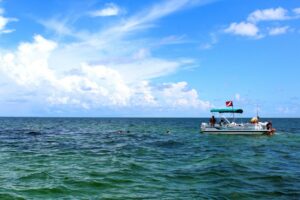 Slower speeds and stability add to the relative safety of pontoon boats. According to 2019 U.S. Coast Guard statistics, pontoon vessel types rank more favorably than open motorboat, personal watercraft, cabin motorboat and canoe/kayak in casualty numbers.
Accessibility means boarding with ease for those with movement disabilities or wheelchairs. The pontoon lines up very close to the dock so people in wheelchairs or who need help moving about can get on and off the boat easily.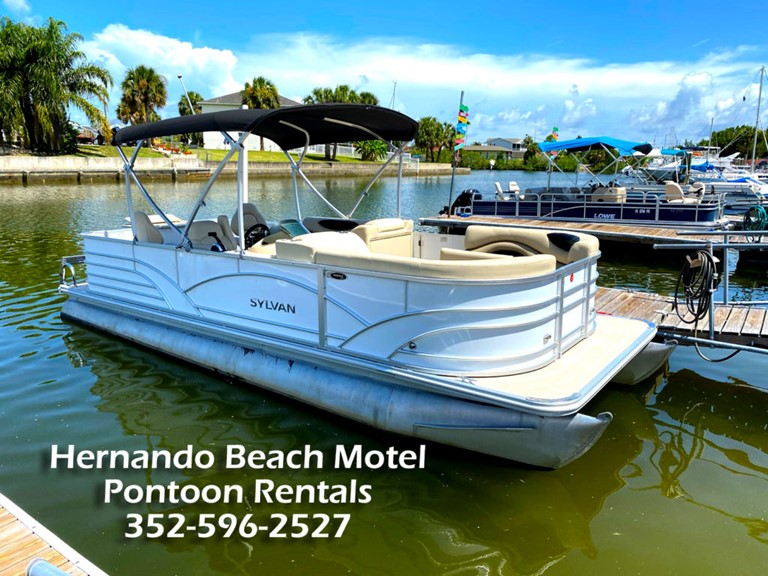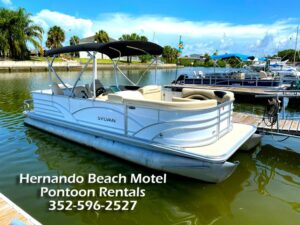 Join the fun and include a pontoon boat in your plans. Arrange a rental from Blue Pelican Marina, Hernando Beach Marina, Sterling Marina or Hernando Beach Motel. Book an eco-tour or sunset cruise on Bayport River Safari. Interested in doing extensive boating without ownership? Consider a membership to Freedom Boat Club in Hernando Beach.