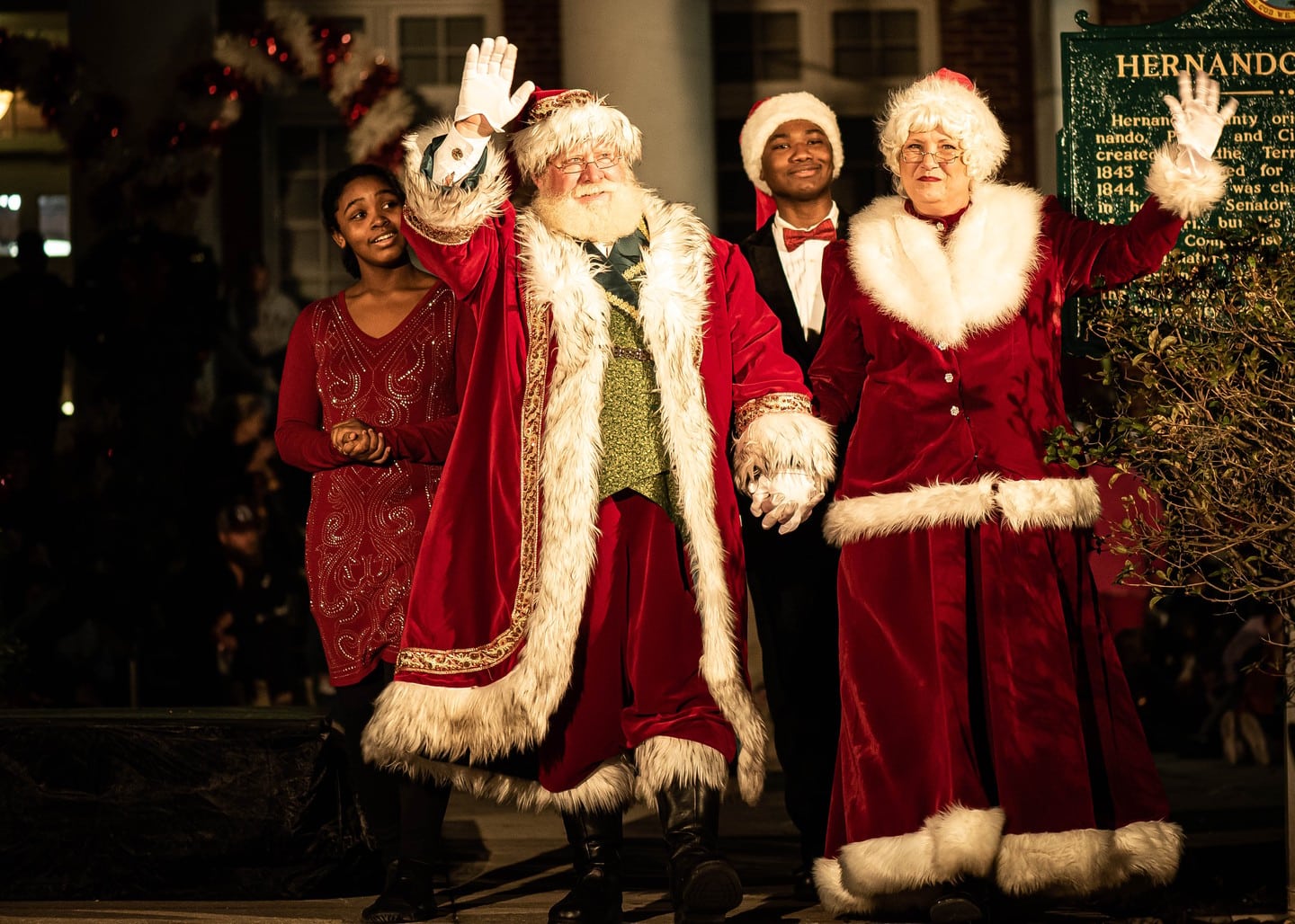 Make the Season Bright, Florida-style in Brooksville & Weeki Wachee
What Florida lacks in cold Winter weather, it makes up for with a warm holiday spirit! From palm trees strung with lights to historic towns decorated from head to toe, Floridians go all out for the season, including everything but the snow. Discover fun and unique holiday events on Florida's Adventure Coast, Brooksville-Weeki Wachee; from farm festivals and live music performances to holiday boat parades and a much-loved event returning this year; the famed Weeki Wachee Springs Mermaid holiday presentation of "Winter Waterland."
The Holidays Shine Bright in Historic Brooksville
The season begins on Florida's Adventure Coast with the annual Tree Lighting in historic Brooksville, a small town that often reminds folks of a 'Hallmark movie' during the holidays. Explore the historic downtown dressed up for the season and enjoy Christmas events throughout the month of December, including horse-drawn carriage rides, live music at the Courthouse, Family Christmas nights with Santa, the Keys to Christmas, and of course the magnificent Tree Lighting Ceremony held on the first Thursday of December.
Brooksville Main Street Presents the Annual Christmas Tree Lighting Ceremony on December 1st.
Taking place at the old courthouse on Main Street, the festive tree lighting captures all the essence of an old-fashioned Christmas in this small Florida town. The Live Oak Theatre Company offers entertainment throughout the night, with live music, caroling, and holiday performances. Stroll down Main Street while visiting downtown shops and unique street vendors for one-of-a-kind holiday items and gifts and don't miss Patricia's live "windows come to life" show. Santa and Mrs. Claus are said to make an appearance every year, and plenty of other surprises are in store as local businesses and residents go all out for this evening of fun in historic Brooksville!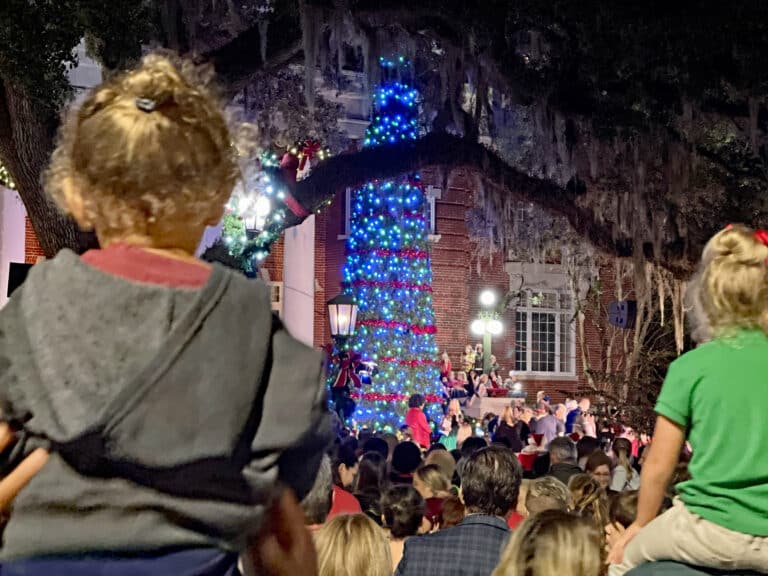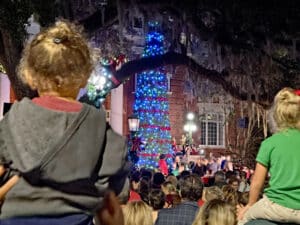 Carriage Rides through Downtown
The nights of December 14th, 15th, 21st, and 22nd offer horse-drawn carriage rides through the historic streets of downtown Brooksville; this event is a favorite for visitors and locals alike and tickets are required, so get them early!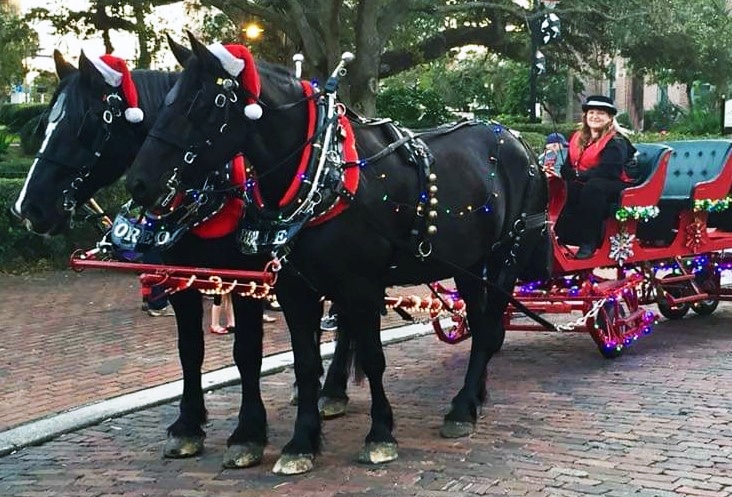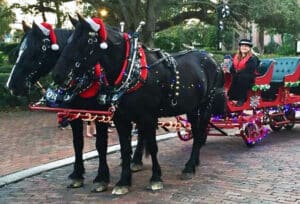 Museum Tours – Night of Lights and the 1885 Train Depot Christmas Event
On Saturday, December 10th, the Night of Lights begins at 6 pm; tour the May-Stringer House and find each room beautifully decorated for the season. Enjoy live history with the museum docents who will be dressed in their 1800s period attire. Sit with Santa on the front porch and enjoy hot chocolate, cookies, and more! Tickets are $8 for adults, and $5 for children under 12 and can be purchased at the door on December 10th. All proceeds help the Hernando Historical Museum Association keep these museums open to the public.
On Saturday, December 17th, families are invited to the 1885 Brooksville Train Depot Museum for a day of holiday festivities for all ages, featuring historical presentations, crafts, toys, visits with Santa, and more! Admission is $5 and includes a Santa visit, toy, and train talks at the depot and the Countryman One-Room Schoolhouse next door.
Family Christmas Festival & Sensory Sensitive Santa Experience
On December 20 from 2-5pm, visit Hernando Park for a family-friendly Christmas Festival featuring Santa Claus, Christmas crafts, live entertainment, games, and food and drink vendors in the park. Prior to the festivities in the park, children who prefer low-stimulation environments can enjoy a sensory-sensitive experience with Santa from noon-2 pm at the Brooksville Welcome Center.
Holidays on the Farm – Enjoy 'Christmas Under the Moon' at HarvestMoon Fun Farm
HarvestMoon Fun Farm is opening on December 2nd, inviting guests to see the dazzling Christmas lights display and take a stroll through the magical lighted path to visit Santa while enjoying some farm fun. Families and kids can enjoy an enchanted hayride while singing Christmas Carols, jumping on the 70ft jumping pillow, strolling through the lighted Christmas Tree Trail, a petting farm, and plenty of other fun farm activities, open on most Friday and Saturday nights in December and more evenings leading up to Christmas.
A Winter Waterland at Weeki Wachee Springs
On December 1-3, December 8, and December 15, from 6-9 pm, join the Friends of Weeki Wachee Springs State Park for the Holiday Lights Display! Get into the holiday spirit as you take a festive stroll through the park lit up with holiday lights. The evening will also include a photo opportunity with Santa's Mermaid Elves, and guests can visit the galley restaurant or the gift shop for unique shopping.
In addition to the Holiday Lights Display, 'Winter Waterland' is returning this year at Weeki Wachee Springs State Park on December 9-10 and 16-17 from 6-10 pm. Special activities include underwater performances by the Weeki Wachee Mermaids, a live nativity scene, and a "Water Boat Sleigh" ride on the Weeki Wachee River. Families can also enjoy taking photos with Santa and his mermaid elves!
The entrance fee is $5 for the Holiday Lights Display and $10 for Winter Waterland. Children five and under are free. For more information and to purchase tickets, visit the Friends of Weeki Wachee Springs State Park on Eventbrite.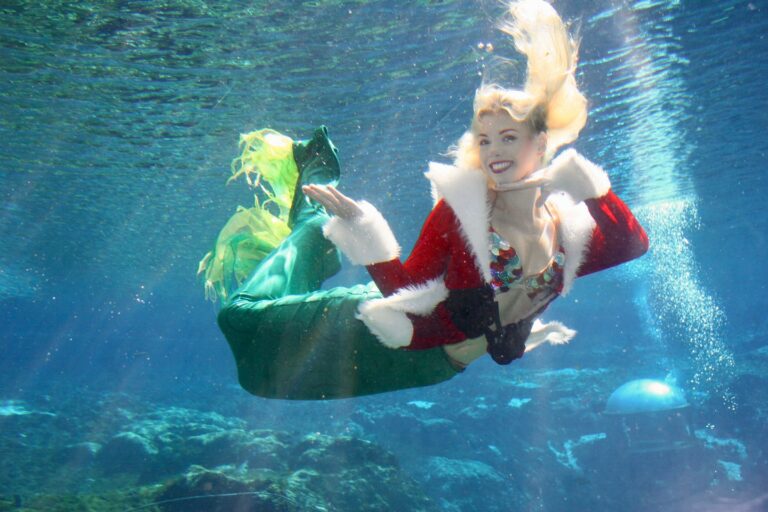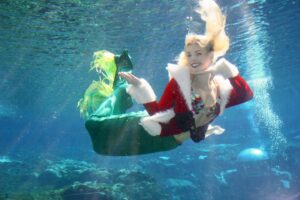 Christmas Boat Parades
On December 10th, visitors and residents can watch not one, but two Christmas boat parades in Weeki Wachee and Hernando Beach! Enjoy these community events, where residents get together and show off their unique decorations on boats, kayaks, canoes, and more!
To view the Weeki Wachee Boat Parade, visitors can find parking at the Kayak Shack, Upper Deck Cafe, Rogers Park, and Bayport Park. Parking at the Kayak Shack is $10 per vehicle, to be matched by the owners and given to local animal rescues; guests may also bring unwanted and new blankets, dog and cat food, bowls, leashes, etc. View the Facebook event for more details.
In Hernando Beach, the Toys for Tots Christmas Boat Parade will begin at 6:00 pm at the Hernando Beach Yacht Club; the venue is open to the public this year to view the parade, with an entrance fee of 1 new unwrapped toy per person benefitting Toys for Tots. Doors open at 5:00 with a cash bar, hot dogs, chips, and chili for sale. Guests can enjoy a Christmas Party following the parade, including photos with Santa, a raffle, and a Christmas carol sing-along!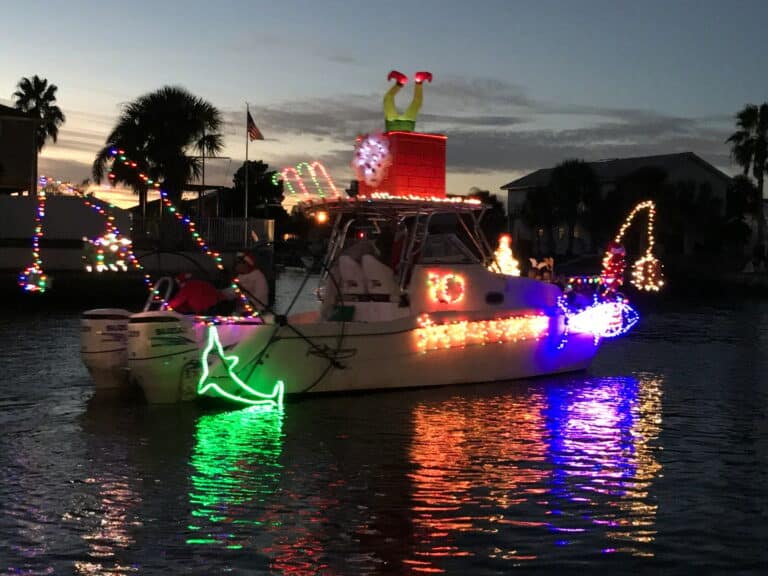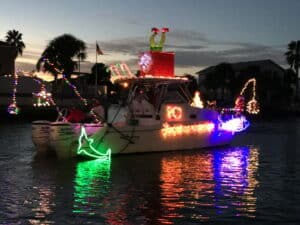 Holiday Shows, Craft Fairs and So Much More
Between historic Brooksville shopping events, family festivals and holiday performances at Stage West and the Live Oak Theatre, there are more than enough events to fill the calendar this December and too many to list here at once! Visit our Events page at https://floridasadventurecoast.com/events/ to see all the holiday happenings and start planning your festive outing on Florida's Adventure Coast, Brooksville – Weeki Wachee.