Are you escaping the cold Midwest winter for sunny days on Florida's Adventure Coast and wondering what to do? Not to worry. We have plenty of suggestions that are sure to please anyone in your traveling group no matter what their age.
Whether you're interested in seasonal festivities or activities available any day of the year, you'll be glad you visited Florida's Adventure Coast in the winter. Just the temperature highs alone give it away! The average high is in the 70s—perfect weather for getting outside and exploring nature.
Seasonal Festivals Abound
Spring in Florida's Adventure Coast offers a number of fun activities. No matter whether you're a nature lover, an art lover, or a blueberry lover, there's something here for everyone!
Join us at CroomFest 2023 held on Friday, February 3 through Sunday, February 5. It starts at the Silver Lake Campgrounds and gives participants the opportunity to experience the Withlacoochee State Forest in a new way whether you camp, bike, paddle, or play.
Swamp Fest will be held March 3-5, 2023 in Spring Hill, Florida and features arts, crafts, food, and music. What's unique about the Swamp Fest is its "Swamp Monster Contest," which invites kids and adults to don swamp monster costumes of their own creation. Cash prizes are awarded to the best costumes.
If you love art, you'll love Art in the Park 2023 in Brooksville. Showcasing many different mediums, Art in the Park will be held for the 38th year on March 11-12, 2023. Surrounded by the natural beauty of oak trees in Tom Varn Park, art lovers will enjoy this local event dedicated to the fine arts.
As the slogan says, Brooksville Blueberry Festival is "a festival for a small town with big dreams." Held in Downtown Brooksville on April 29-30, 2023, the Blueberry Festival offers art, decor, and gifts—and of course, blueberries.
It might come as a surprise, but Florida is eighth in the nation for blueberry production, so it makes sense to celebrate blueberries here! Make sure you don't miss Blueberry Lane where you can find blueberry delicacies of all varieties from blueberry jam to freshly picked blueberries.
Get Outside and Enjoy the Pleasant Temperatures
If you're not sure what to do outside of festivals, don't worry! We have a number of options for you to try—maybe for the first time—as you spend time out in nature, enjoying the warm weather—grateful that you don't have to deal with the cold and snow up north.
Enjoy a Day in the Sand with ATV Rentals
If you want an experience the whole family can enjoy, we recommend you check out Croom Motorcycle area and Moore ATV Rentals where kids six years old and up are allowed to drive their own ATV. Delivering all your equipment to Croom Motorcycle Area at Withlacoochee State Forest, Moore ATV Rentals offers two-hour, three-hour, half, and full day rentals.
You'll be able to explore the dune area and up to 1,800 acres of trails for the two-hour rental and an additional 800 acres for three-hour or longer rentals. The Croom Motorcycle area is known for being one of Florida's best riding areas since it has soft sand and few trees. A day on ATVs is sure to be a memory you won't forget!
Enjoy a Day in the Trees Ziplining
If you're looking for an experience like no other, try ziplining at FLG X Adventure Course – Tampa. The Tree Top Adventure Course is located up in the trees, ranging from fifteen to eighty feet off the ground.
It's full of unique features like suspended bridges, cargo nets, slides, and swings. We especially love that it starts out easy and allows you to progress through medium and later more difficult courses. Don't worry if you don't feel up to the most challenging course—the Black course. It's well worth the money even if you just get through the first two courses.
All in all, you can expect a fun time that you complete at your own pace. Remember to enjoy the zip lines, which are a great break between the obstacles, and don't forget to bring water. You'll need it!
Hit the Trail
If ATVs and ziplining sound a little too adventurous to you, that's totally fine. We have plenty of excellent walking and biking trails that will allow you to get outside in a way that's more your speed. Florida's Adventure Coast is filled with great trails that are just waiting for you to discover them!
We especially like the Withlacoochee State Trail and the Ridge Manor Trailhead in Ridge Manor, Florida. The trailhead features plenty of parking, restrooms, and covered picnic areas. Furry friends on leashes are also welcome.
If you want to go hiking, there are a number of options. Stick to the paved Withlacoochee State Trail or venture into the forest to explore the flora and fauna on the many unpaved trails. Cyclists enjoy the paved trail as well as the off-road gravel trails in the forest.
Some of the wildlife you can expect to see include wild turkeys, gopher tortoises, foxes, rabbits, and deer. A lot of the trail is covered by a canopy of trees, so you don't have to worry about getting too much sun.
It's no surprise that the World Wildlife Fund named the Withlacoochee State Forest one of the "10 Coolest Places You've Never Been in North America." Whether you're a bird watcher, an avid hiker, a bicyclist, or a horseback rider, the Withlacoochee State Forest is perfect for every adventurer.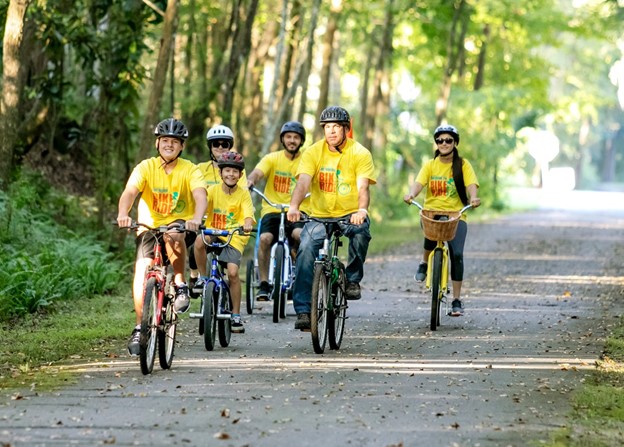 SHARE WITH #FLADVENTURECOAST