Teach Your Kids to Fish at the Pier
Grab your rod and reel and teach your kids to fish. Head to the pier at Bayport Park. The newly expanded pier offers plenty of room to cast a line, as well as stunning views of the Gulf of Mexico.
Parking is $10/day, and the park offers restrooms, picnic areas, and boat and kayak launches. Pack a picnic lunch and plan to spend the day there teaching your kids how to fish. You may even see dolphins, herons and egrets, and even manatees while you're there!
Bait and tackle are available from nearby bait shops. The Bayport Park Pier is an ideal location to fish because you'll see fish of all different kinds. You especially will want to keep an eye out for the snappers right under the pier. It's also a great place to watch the sun set.
If you come on a weekend, the pier is more likely to get busy, but it's pretty quiet on the weekdays. All in all, Bayport Park is a great place to introduce your kids to fishing—and they'll be able to feed themselves for a lifetime!
Rent Kayaks and Go Fishing
If your kids are a little older or if you like to be on the water, you might consider renting kayaks to go fishing. We especially recommend checking out Indian Bay Outfitters.
If you've never tried kayak fishing before, there are some advantages. You can get to places larger boats can't go and you're closer to the water—and the fish! It's also an excellent way to get out and enjoy the serenity of nature.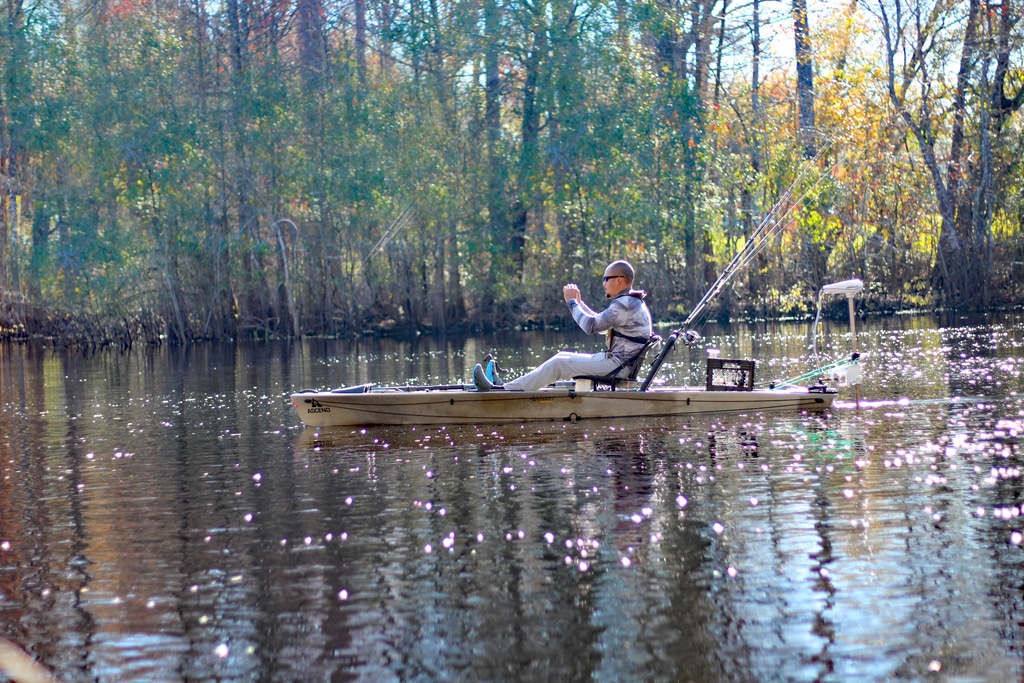 Go Big and Charter a Boat for a Fishing Trip
If you really want to go all out—and it fits in your budget—we encourage you to charter a boat for a fishing trip that you and your friend or family member won't forget. Want to try some new fishing grounds? A charter is a great way to do it!
Florida's Adventure Coast is full of options to charter a boat, including Better Off Wet and Angling Adventures. If you're looking for a great time on the water catching lots of fish, you can't go wrong with these two companies.
What we love about Better Off Wet is that they offer highly customizable options. Want to be on the water for an hour? Done. Prefer a week? They also do that. Just call or text so that they can create a special day on the water for you.
Another great option is Angling Adventures. The captain is known for his great personality and how wonderful he is with kids. He's also known for being straightforward and honest if the weather isn't great to help you make an informed decision about going on the water or not.
Remember to Go Green
No matter how you decide to go fishing this year—pier, kayak, or charter—remember to use sustainable fishing methods and pay attention to fishing regulations.
Also, remember your footprint and protect the environment by disposing of your fishing line properly via the appropriate receptacles. By keeping these things in mind, you and your loved ones can have a wonderful time fishing—a memory that will last for years to come!
SHARE WITH #FLADVENTURECOAST